ABC LOST TV Show Season 2 Original Artwork Swan Hatch Dharma Protocol Map WOW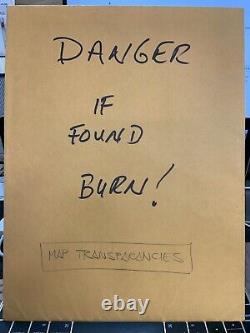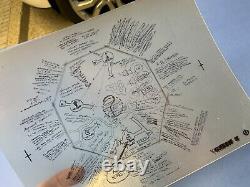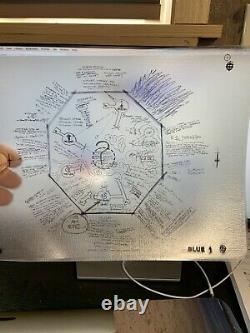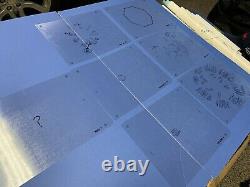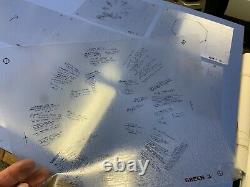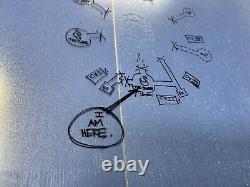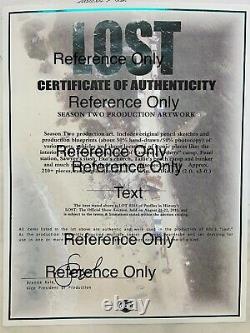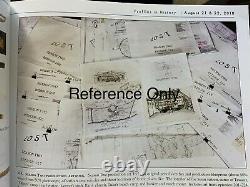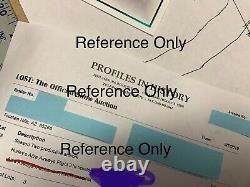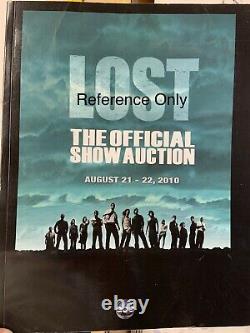 ABC's "LOST" Season Two "Original Authentic" Artwork. For best clarity and detail, please view this listing on a computer vs a smartphone. These are THE REAL hand drawn blueprints, conceptual drawings, renderings, production layouts and artwork. They make a great collector item for any LOST Fan! This one is an authentic working production department's film slides of the Dharma Initiative Protocol Map. This set is a six-piece plastic film hand drawn overlay, one on top of the other. Similar to overhead projector slides. Comes with the hand-written envelope, DANGER IF FOUND BURN!
THIS IS ONE OF THE HOLY GRAILS of my collection. This is the only item from Season Two like this, all others are on paper.
A total hands on series production piece! A marvelous and powerful display artwork piece. A very cool and most iconic and important drawing and a must have for any Lost Fan!
Don't let this one slip away. The one and only in existence. Don't wait too long. I will be listing different pieces of my collection weekly.
These are the only ones I have folks, so if you want it, don't wait, when they're gone, they're gone. They'll never go down in value. Each piece will come with a copy of the original COA from the Vice President of ABC Productions. Each piece of artwork will vary in price depending on the type, detail, hand drawn, pencil drawn, production copy, shoot location, subject matter, multi-piece set, size and complexity. Please ask ALL questions before purchasing and please review any and all pictures, condition, authenticity materials and listing descriptions.
These have been handled by the LOST production and directing departments along with construction, artists, designers and crew. Expect some creasing, wrinkles, folds, marks, stains, rips, tears, written notes, etc...
I will do my best to describe each piece to the best of my ability, but someones expectations of excellent or good condition will vary. Again, please ask me any questions about any piece.
LOST items are very collectible and will be for many more years to come. Items like this are not seen or available anywhere else as I have the originals. Here's a chance to own your'forever' piece of LOST TV Show Memorabilia for a fair price. Makes a great wall display or gift idea! A Must have for the LOST Fan!
Wait until you receive the item as you may wish to trim it before mounting. These will be continually updated and pieces added for availability.
If theres a piece youre looking for, just ask. This IS a once in a lifetime LOST opportunity! There were six seasons of artwork and that's it.
The others are held in private collections around the world. This is the very important Season Two! The episodes are: #203 - "Orientation" by Jack Bender #204 - "Everyone Hates Hugo" by Alan Taylor #205....
And Found" by Stephen Williams #206 - "Abandoned" by Adam Davidson #207 - "The Other 40 Days" by Eric Lancuville #208 - "Collision" by Stephen Williams #209 - "What Kate Did" by Paul Edwards #210 - "The 23rd Psalm" by Matt Earl Beesley #211 - "The Hunting Party" by Stephen Williams #212 - "Fire & Water" by Jack Bender #213 - "The Long Con" by Roxann Dawson #214 - "One of Them" by Stephen Williams #215 - "Maternity Leave" by Jack Bender #216 - "The Whole Truth" by Karen Gaviola #217 - "Lockdown" by Stephen Williams #218 - "Dave" by Jack Bender #219 - "S. " by Eric Laneuville #220 - "Two For The Road" by Paul Edwards #221 - "?
" by Deran Sarafian #222 - "Three Minutes" by Stephen Williams #223/224 - "Live Together, Die Alone by Jack Bender. The artwork ranges from 8x10 to 24x36, with most being the large size sheets. The artwork/drawings subjects are as follows:The Pearl Hatch, Hatch Doors, Interior of Shannon and Nora's Dingy Apartment, Shannon and Nora's Grungy Apartment, Melbourne Walkabout Tours, Cargo Crate, Exterior Jungle Bunker, Shirt, Nylon Stocking, Boomerang Blade Tool, Tailie's Bunker, Tailie Beach Gravesites, YWCA Camp, SOS Fire Area on Beach Stage SiteInterior of Bunker of Computer Room, Kitchen, Diner, Ladder, Interior of the Hatch - Diamond Head Stage - Magnetized, Drawing of the Flip Down Mechanical Clock Case, "Underground" sign, "Brixton" sign, Vintage British Telephone Booth - Charlie, Interior of Maternity Room, Interior of Captain's Office, Observation Room, Graffiti drawing on building, Shooting Range, Interior of Police Station, Interior of Cortez's Office, Interior, Exterior of Dilingham Ranch Farmhouse, Front Elevation of Hatch Doors, Blast Door Detail, Pull Down Door Living RoomExterior of CantinaExterior of "Our Lady of Perpetual Hope" Interior of Iraqi Intelligence Office Iraqi Military OfficeMaternity Animals DrawingEpisode 215 NurseryTrapdoor Tunnel Entrance DrawingMedical TunnelExamination RoomExam LightsInterior Medical StationMetal Hatch Door Detail DrawingsColorful Animal Nursery DrawingSun and Jin's ApartmentDr Chong's OfficeSeoul Gateway Hotel Graveyard Tombstone Covers DrawingHigh Altitude Ballon Capsule Ballon Crash SiteExterior Motel Parking Lot, Hatch Security Doors, Balloon Cargo SledInterior Santa Rosa Medical Hospital - Hurley's RoomDharma Map Protocol Transparencies (7) - Danger If Found Burn!
Dharma Map Protocol (2)Beach PantryKitchen PantryInterior Sydney AirportIsaac's Clinic InteriorMr. Eko's Church ConstructionFarmhouse, Winter in Buffalo drawingsDirector's Plans FolderExterior Street Buffalo Swan Hatch Computer Room and Parabolic DoorsSwan Hatch Interior DrawingLAX Cocktail Bar drawing and SignLAX Security/Bar - Sydney AirportHatch Crawl SpaceHatch Security Doors at Beechcraft SitePearl Hatch - MultiplePearlHatch LadderNew Swan Hatch DoorsPearl Hatch ShaftPearl Hatch ChairsBeechcraft and Eko drawings storyboard, Exterior Jungle - Mr. Friendly ClearingBlast Door DetailExterior Yurtville HatchMr. Friendly's BoatSwan Hatch "Peak Magnetism"Swan Hatch "Initial Magnetism"Swan Hatch "Post Blast"Pneumatic Tube Drawing and BaseInterior Arctic Research Station, The GIANT FOOT, Exterior of Sailboat Concept - ElizabethElizabeth Sectioned and deck drawings of the SailboatExterior of the British PrisonMr. Clucks Chicken DrawingsHatch Interior CrawlspaceNigerian ChurchNigerian Confessionaland many many more...... The item "ABC LOST TV Show Season 2 Original Artwork Swan Hatch Dharma Protocol Map WOW" is in sale since Monday, July 19, 2021. This item is in the category "Entertainment Memorabilia\Television Memorabilia\Props\Originals". The seller is "cars2collectibles" and is located in Fountain Hills, Arizona. This item can be shipped worldwide.

---