BATMAN STORYBOARDS, Signed CHRISTIAN BALE Mask, COA UACC, Frame, DVD, Real CAPE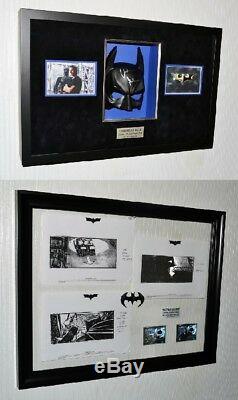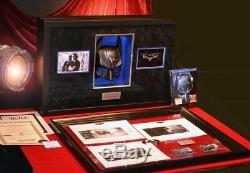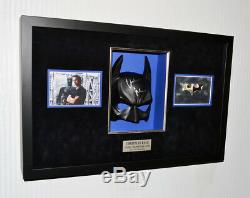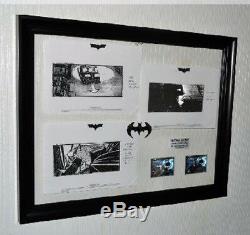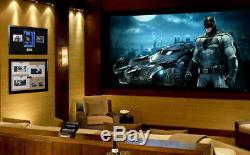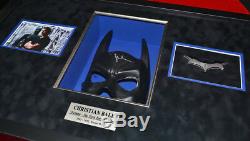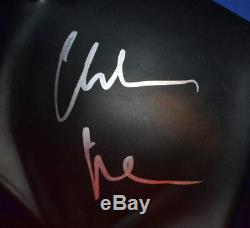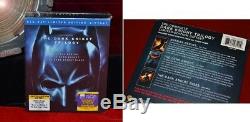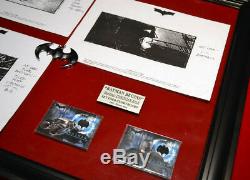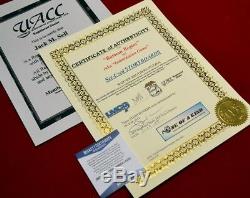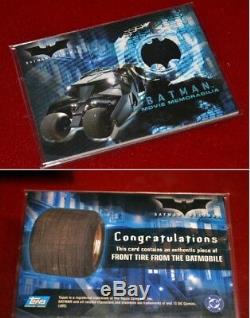 The Ultimate "BATMAN" Autograph Storyboards & Prop COLLECTION including a great CHRISTIAN BALE Signed "Batman" framed MASK.. + Set-used STORYBOARDS, 2 Custom FRAMES & engraved PLAQUES + BLU RAY DVD. ++Original Screen-Worn CLOTH CAPE piece & BATMOBILE TIRE piece from "Batman: The Dark Knight".
A Great Motion Picture Series.. A Great Collection that includes TWO (2) framed DISPLAYS! As a TV & Movie DIRECTOR and a lifetime member of the Director's Guild of America, D. Sell is offering some rare PROPS, AUTOGRAPHS & COSTUMES, ART & COLLECTIBLES from his personal collection from some great television & motion pictures, including "STAR WARS, " "RESIDENT EVIL, " APOLLO 13, " "STAR TREK, " "AMERICAN PIE, " "DIRTY DANCING, " "E.
", "AEON FLUX, " "WARM BODIES, " "CASINO ROYALE, " "bruno, " "HOOK, " "GONE WITH THE WIND, " "CHRONICLES OF RIDDICK, " "HANNIBAL, " "BATMAN, " "HOOK, " "WIZARD OF OZ, " "HUNT FOR RED OCTOBER" "IT'S A WONDERFUL LIFE, " "SUPERMAN, " "GHOST, " "NATIONAL TREASURE, " "SKYFALL, " "SPIDER-MAN" & "PIRATES of the CARIBBEAN + dozens of other Films & Television shows, many destined to become Classics that will live on for millions of viewers for years to come. The RARE Original Autographed BATMAN MASK is signed by star CHRISTIAN BALE from the "BATMAN: The Dark Knight" Movie. STAN LEE signed this "BATMAN" mask in silver marker for a BECKETT private signing.. And includes this silver engraved description PLAQUE. This large Shadowbox has this photo of Christian Bale matted inside..
The FRAME also has the 3D BATMAN Logo matted under the glass shadowbox.. All Beautifully & Professionally mounted in a large Shadowbox Black Frame under UV Glass with an Engraved Description PLAQUE & LOGO.. This 1st rare BATMAN Display is framed in a Deep Shadowbox Frame that measures approx 29" x 18".
A Great COLLECTION that is ready to hang on the wall of your Home, Office, Media Room or Museum! Next, the 2nd Framed DISPLAY includes these very RARE Set-Used STORYBOARDS direct from the set of "BATMAN: The Black Knight". These 3 rare pieces are framed inside a double acrylite glass 2nd black frame with the BATMAN LOGO & description Plaque mounted to it.
These very RARE Set-Used STORYBOARDS came from the set of "BATMAN: The Dark Knight" - these were actually used in the streets of Chicago when filming the BATMOBILE chase scenes of "GOTHAM" and many interiors at Pinewood Studios, Warner Bros. Where they also filmied Batman!
This STORYBOARD SCENE shows Batman inside the Batmobile.. These 3 Rare STORYBOARDS are in overall good condition, with great detail of scenes you'll see in the movie... This was obtained & certified genuine by a DGA (Director's Guild of America) Movie/TV Director and is accompanied with a signed CERTIFICATE OF AUTHENTICITY (coa) for these storyboards. And includes this engraved Description PLAQUE attached to the 2nd Frame. Also in this 2nd framed display is this "BATMAN" Costume Piece & a piece of the BATMOBILE TIRE are mounted inside acid-free sealed cases..
These 2 Artifacts are mounted inside the double acrylite glass black frame.. The large 2nd DISPLAY measures approximately 28" Long x 22" High. These very RARE Set-Used STORYBOARDS are direct from the set of "BATMAN: The Dark Knight" in Chicago & England where it was used by the cast and crew to film these scenes in the movie - these rare STORYBOARDS & PROPS are framed in this display. A highly RARE "BATMAN" Collection!
The Autographed MASK, Set-Used STORYBOARDS & PROP Artifacts includes the original CERTIFICATES OF AUTHENTICITY... This rare display is also guaranteed genuine for life by UACC RD #228. Finally, you receive this factory sealed.
Blu Ray DVD special boxed "THE DARK KNIGHT TRILOGY". A Great Motion Picture starring CHRISTIAN BALE, Framed replica MASK & STORYBOARDS with Description Plaques, COA & DVD and just Ready to Hang on the wall of your Museum, Home, Media Room or Office. This original replica Batman AUTOGRAPHED MASK, STORYBOARDS & PROPS are in very good condition..
Starring CHRISTIAN BALE & HEATH LEDGER. The Dark Knight is a 2008 superhero film directed, co-produced, and co-written by Christopher Nolan.
Based on the DC Comics character Batman, the film is the second part of Nolan's The Dark Knight Trilogy and a sequel to 2005's Batman Begins , starring an ensemble cast including Christian Bale, Michael Caine, Heath Ledger, Gary Oldman, Aaron Eckhart, Maggie Gyllenhaal and Morgan Freeman. In the film, Bruce Wayne / Batman (Bale), Police Lieutenant James Gordon (Oldman) and District Attorney Harvey Dent (Eckhart) form an alliance to dismantle organized crime in Gotham City, but are menaced by an anarchist mastermind known as the Joker (Ledger), who seeks to undermine Batman's influence and turn the city to chaos. The Dark Knight was filmed primarily in Chicago, as well as in several other locations in the United States, the United Kingdom, and Hong Kong. Nolan used IMAX 70 mm film cameras to film some sequences, including the Joker's first appearance in the film. Initially created a viral marketing campaign for The Dark Knight , developing promotional websites and trailers highlighting screenshots of Ledger as the Joker. Ledger died on January 22, 2008, some months after the completed filming and six months before the film's release from a toxic combination of prescription drugs, leading to intense attention from the press and movie-going public. A co-production of the United States and the United Kingdom, The Dark Knight was released in 2008.
Film critics considered it one of the best films of its decade and one of the best superhero films of all time; the film received highly positive reviews, particularly for its action, score, screenplay, performances (particularly Ledger's), visual effects, and direction, setting numerous records during its theatrical run. The film received eight Academy Award nominations; it won the award for Best Sound Editing and Ledger was posthumously awarded Best Supporting Actor.
Christian Charles Philip Bale (born 30 January 1974) is a British-born actor with dual citizenship of the United States, known for his intense method acting style, often transforming his body drastically for his roles. Bale is the recipient of many awards, including an Academy Award and two Golden Globes, and was featured in the Time 100 list of 2011. Born in Haverfordwest, Wales, to English parents, Bale had his first starring role at age 13 in Steven Spielberg's war film Empire of the Sun (1987). Following a decade of leading and supporting roles, including in Little Women (1994), he gained wider recognition for portraying the serial killer Patrick Bateman in American Psycho (2000).
In 2004, he lost 63 pounds for his role in the psychological thriller The Machinist (2004). Within six months, he gained 100 pounds to star as Batman in Christopher Nolan's superhero film Batman Begins (2005). He later reprised his role in The Dark Knight (2008) and The Dark Knight Rises (2012). Bale continued to take on starring roles, in Nolan's period drama The Prestige (2006), the western 3:10 to Yuma (2007), the science fiction film Terminator Salvation (2009), and the crime drama Public Enemies (2009).
He won the Golden Globe and Academy Award for Best Supporting Actor for his portrayal of Dicky Eklund in the David O. Russell-directed biographical film The Fighter (2010).
This acclaim continued with his Oscar-nominated roles in Russell's black comedy American Hustle (2013) and in Adam McKay's satires The Big Short (2015) and Vice (2018). For portraying Dick Cheney in the latter, he won a Golden Globe Award for Best Actor & will probably win an Oscar since the voters in Hollywood simply hate most Republicans. And yes, as a D. Film director, I voted for GREEN BOOK, a really wonderful film compared to the very average VICE! Bale's personal life and personality has been the subject of much public attention, despite his desire to keep a low profile.
He is a supporter of Sea Shepherd Conservation Society, Greenpeace, and the World Wildlife Fund, and obtained American citizenship in 2014. Bale has been married to Sandra BlažiÄ since 2000; they have two children. Original RARE Autographed Mask Signed by the famous Star CHRISTIAN BALE. The original "Batman" STORYBOARDS, CHRISTIAN BALE Original AUTOGRAPHED Mask and CAPE & TIRE have all been stored in acid free, pet free, smoke free environment since being acquired.
Our Photos are included as part of our ad description. This famous "BATMAN" replica MASK was signed by CHRISTIAN BALE, the STAR of "BATMAN: The Black Knight, " just ready to hang on your wall and display in your Home, Museum or Office. Check out our other auctions for great Memorabilia, Movie Props, Art & Autographs..
Sell is a Registered Dealer with the U. We are proud that some of our memorabilia on display in the SMITHSONIAN, Washington, D. Jdes7667: Just got my model.
Heimdell51 Praise: Great guy; very prompt & efficient service & exc. Packaging; got a free bonus too! Austinpowheinybeer Praise: GREAT GREAT GREAT!! Toothfella Thanks for the super helmet Jack! Hope to do business again.
Jimsoden Praise: Great packing, good emails, very generous with his time and effort, class act!!! Circus10 Praise: Fabulous costume, vintage RBBB.
Belfast Praise: Wonderful Ebayer & with genuine COA's too! It is the most professional-quality work I've ever seen, absolutely worth every penny.
I can't thank you enough for helping me to realize my dream of being able to hold in my hand something that was actually a part of this movie. I even cried a little when I touched the prop for the first time. Thank you from the bottom of my heart.
I hope to do business with you again some day! AND, peggie701 wrote us this nice letter.
JACK, GOT YOUR PACKAGE TODAY! I WAS VERY IMPRESSED AT THE WAY YOU PUT ALL THE PROPS TOGETHER.
I PUT YOU IN ONE OF MY FAVORITES! AND, THANKS TO THE OTHER 10,000 GREAT EBAYERS WE'VE HAD THE HONOR OF WORKING WITH FOR OVER 15 YEARS.... WE LOOK FORWARD TO MEETING MANY MORE GREAT EBAYERS IN THE FUTURE FROM ALL OVER THE WORLD! 2 GREAT "Spider- Man" DISPLAYS that you will rarely find in the marketplace.
Movie Autographs & Props are becoming one of the fastest growing assets in the world..... A real "One of a Kind" FIND and conversation piece! Check out our other auctions for more great items, including more Art, Props, Autographs, Costumes & More! If this autograph is declared not to be authentic, we may ask the purchaser to supply the full written opinion of one competent authority acceptable to us. Autographed "BATMAN" Mask with COA (Certificate of Authenticity) guaranteed genuine by BECKETT & UACC Registered Dealer #228.
The STORYBOARDS are set-used, but in overall good condition, the Signed MASK is near mint as are the PROPS... These were obtained & certified genuine by a DGA (Director's Guild of America) Movie/TV Director and is accompanied with CERTIFICATES OF AUTHENTICITY (coa's) for each piece.
This Great BATMAN collection mounted in 2 Seperate FRAMES includes. RARE Original Autographed BATMAN MASK Signed by star CHRISTOPHER BALE from the "BATMAN: The Dark Knight" Movie. Rare genuine set-used original STORYBOARDS from the set of "BATMAN: The Dark Knight".
Original Screen-Worn CLOTH piece from CHRISTOPHER BALE "Batman" COSTUME CAPE. Original Screen-Used BATMOBILE TIRE piece from "Batman: The Dark Knight". This Collection is displayed in 2 large black custom Frames & Shadowbox with engraved Description PLAQUE.
Sealed BLU RAY DVD of the special edition Motion Pictures "BATMAN: The Dark Knight". CERTIFICATES of AUTHENTICITY for the Autograph, Artifacts & Storyboard. A GREAT INVESTMENT for MOVIE, ART & COMIC Collectors!
A Great Gift or Investment! The item "BATMAN STORYBOARDS, Signed CHRISTIAN BALE Mask, COA UACC, Frame, DVD, Real CAPE" is in sale since Monday, March 18, 2019. This item is in the category "Entertainment Memorabilia\Autographs-Original\Movies\Photographs". The seller is "jackmsell" and is located in New Port Richey, Florida.
This item can be shipped worldwide.
Size: 29" x 18" + 28" x 29"
Country/Region of Manufacture: United States
Movie: BATMA: The Dark Knight
Original/Reproduction: Original
Signed by: CHRISTIAN BALE
Object Type: Photograph
Autograph Authentication: UACC RD#228
Industry: Movies

---