BOURNE SUPREMACY Huge Prop Display, MATT DAMON Signed Autograph, COA, DVD, UACC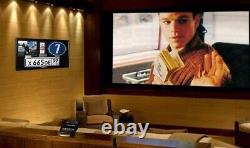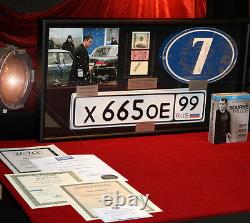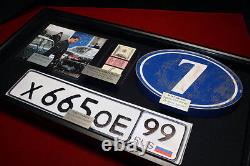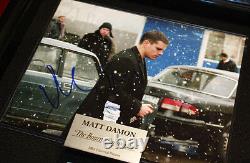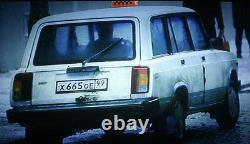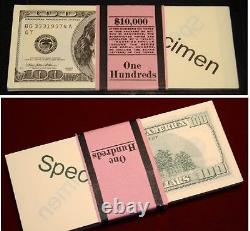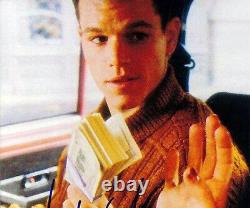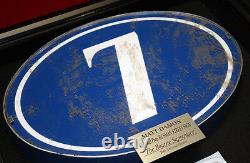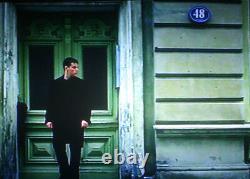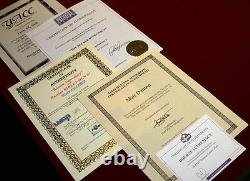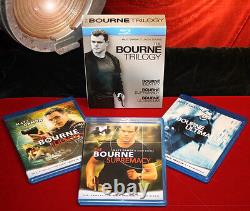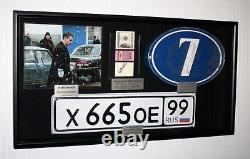 Screen-Used Prop COLLECTION from this MATT DAMON classic Film, "BOURNE SUPREMACY". A Great Classic Motion Picture...
A Great Gift or Investment! An Original Prop Russian STREET SIGN & Certificate of Authenticity signed by D. An Original Prop Russian TAXI LICENSE PLATE & Certificate of Authenticity signed by a representative from Premiere Props.
An original Autographed Picture by MATT DAMON on a Color 8x10 PHOTO with COA (UACC RD#228). A DRAMATIC Movie DISPLAY in a custom Framed Shadowbox EXHIBIT. A new sealed special BLU RAY DVD Set of all 3 "BOURNE SUPREMACY" Films so you can see your props on screen! Engraved display PLAQUES with each Prop and Autograph.
As a TV & Movie DIRECTOR and a lifetime member of the Director's Guild of America, D. Sell is offering some rare PROPS, COSTUMES, AUTOGRAPHS & COLLECTIBLES from his personal collection from some great television & motion pictures, including "STAR WARS, " "RESIDENT EVIL, " APOLLO 13, " "STAR TREK, " "AMERICAN PIE, " "DIRTY DANCING, " "E. ", "WARM BODIES, " "CASINO ROYALE, " "bruno, " "GONE WITH THE WIND, " "CHRONICLES OF RIDDICK, " "HANNIBAL, " "BATMAN, " "IT'S A WONDERFUL LIFE, " "SUPERMAN, " "GHOST, " "NATIONAL TREASURE, " "SKYFALL, " "SPIDER-MAN" & "PIRATES of the CARIBBEAN + dozens of other Films & Television shows, many destined to become Classics that will live on for millions of viewers for years to come. This very RARE COLLECTION of Screen-Used PROPS came direct from the UNIVERSAL PICTURES location in RUSSIA, 2004!
BOURNE SUPREMACY Custom Display just ready to hang on your wall and display in your Home, Office, Media Room or Museum! This great Screen-used PROP is actually made of a thick plastic to "appear" like a real Russian Plate and is marked on the back with this writing "TAXI".. Below the License Plate on the Base is this engraved plaque mounted to the background that reads. And here's the TAXI Car it was attached as Matt Damon rode in this car to find the Russian Girl (Bourne had killed both her parents) and the cab takes off, leaving Bourne alone!
This great display also includes this ACTUAL Matt Damon AUTOGRAPHED Photo as secret agent Jason Bourne. Damon signed in Blue marker on this 8x10 color still from the Bourne movies and it is mounted in an acid-free case inside the unique shadowbox frame with engraved silver description PLAQUE..
The MATT DAMON original AUTOGRAPH comes with the Certificate of Authenticity that is guaranteed genuine by world renowned TODD MUELLER AUTOGRAPHS and guaranteed genuine for life by UACC Registered Dealer #228... The Autograph was obtained in person on 7/12/2004 on the set of "The Tonight Show" at NBC Studios, Burbank, CA.
Next, you receive this Prop "Russian STREET SIGN" in this unique Display is an actual SCREEN-USED prop that was used in the Moscow street scenes in the 2004 spy thriller, BOURNE SUPREMACY. This particular prop is made of hard plastic & wood construction and and was used on the streets in the Moscow scenes when "Bourne" goes looking for the young woman (Bourne killed both her parents when she was little).
Includes the Certificates of Authenticity that guarantees these Screen-Used Props original and genuine by world renowned PREMIERE PROPS and signed by a representative from UNIVERSAL PICTURES & D. Of course, the MATT DAMON Autograph is original and guaranteed Genuine by world famous TODD MUELLER Autographs and guaranteed for life by UACC Registered Dealer #228. You also get this Special Edition BLU RAY DVD Set of all 3 "BOURNE SUPREMACY" Films. This Trilogy Box comes sealed sealed..
This Great Prop COLLECTION can be seen in the classic motion picture, BOURNE SUPREMACY. This Prop COLLECTION from one of MATT DAMON's most famous ROLES as "JASON BOURNE" in Motion Picture history! You can own these great pieces of film history, keep it as an investment and enjoy it for many years to come! The screen-used Props & Autograph that are mounted to this Glass Frame measures approximately 32" Long x 16" High..
The Russian Prop LICENSE PLATE measures approximately 21" x 5".. This very rare Original Screen-Used PROP & AUTOGRAPH COLLECTION are nicely displayed in this custom made exhibit.. This Original PROPS & AUTOGRAPH are NOT A COPY... They came directly from the set of UNIVERSAL PICTURES, the Autograph was obtained in person and ALL are ORIGINAL & GUARANTEED GENUINE FOR LIFE.. If this autograph is declared not to be authentic, we may ask the purchaser to supply the full written opinion of one competent authority acceptable to us.
A GREAT DRAMATIC EXHIBIT just ready to hang on the wall and display in your Home, Office, Media Room or Museum! After escaping from the emotional and physical pain he previously encountered. Jason Bourne and his girlfriend Marie begin a new life as far away as possible. But when an assassination attempt on Bourne goes horribly wrong, Bourne must re-enter the life he wanted to leave behind, in order to find out the truth why they are still after him. All of our collections are professionally designed by Adrianne Richmond, Award-Winning Chicago-based Art Director.
The original "BOURNE SUPREMACY" PROP COLLECTION came from UNIVERSAL PICTURES, includes a custom SHADOWBOX and MATT DAMON Autograph & DVD boxed set... These have been stored in an acid free case in a smoke free, pet free environment since being acquired. Check out our other auctions for more TV & Movie Collections that include wardrobes, props & autographs. Sell is a Registered Dealer with the U.
We are proud that some of our memorabilia on display in the SMITHSONIAN, Washington, D. Btbandabbermake3s: Fantastic items, 30 Star Movie Maker! Heimdell51: Great guy; very prompt & efficient service & exc.
Packaging; got a free bonus too! Toothfella: Thanks for the super helmet Jack! Hope to do business again. Jimsoden: Great packing, good emails, very generous with his time and effort, class act!!!
Circus10: Fabulous costume, vintage RBBB. Belfast: Wonderful Ebayer & with genuine COA's too! JACK, GOT YOUR PACKAGE TODAY! I WAS VERY IMPRESSED AT THE WAY YOU PUT ALL THE PROPS TOGETHER. I PUT YOU IN ONE OF MY FAVORITES!
AND, THANKS TO THE OTHER 9000 GREAT EBAYERS WE'VE HAD THE HONOR OF WORKING WITH FOR OVER 15 YEARS... WE LOOK FORWARD TO MEETING MANY MORE GREAT EBAYERS IN THE FUTURE FROM ALL OVER THE WORLD!
Of course, the MATT DAMON Autograph is original and guaranteed Genuine by world famous TODD MUELLER Autographs... + you receive the BOURNE TRILOGY on BLU RAY DVD. This professionally made exhibit is designed to display the PROPS & AUTOGRAPH inside this custom SHADOWBOX... A GREAT piece of BOURNE SUPREMACY & MATT DAMON MOTION PICTURE history....
A real "One of a Kind" Find & Conversation Pieces.. Movie & Television Props & Autographs can make for a good investment as well! Check out our other auctions for more great movie & television PROPS, AUTOGRAPHS & COSTUMES!
Imagine giving this ULTIMATE great BOURNE SUPREMACY movie collection to the MATT DAMON Fan in your family or just keeping it for yourself for what should be a good investment! This would look great displayed in your Home, Office, Media room or Museum for years to come! WE ALSO OFFER A 3 MONTH LAYAWAY PLAN WHERE YOU CAN MAKE 3 EQUAL MONTHLY PAYMENTS TO US & WE DON'T CHARGE ANY INTEREST....
A GREAT MOTION PICTURE COLLECTION from a great classic film, "BOURNE SUPREMACY, " starring MATT DAMON. A Very RARE "BOURNE SUPREMACY" Display.

---