Commodore Amiga 4000 used to make Titanic inc. Amazing footage on harddisk AS IS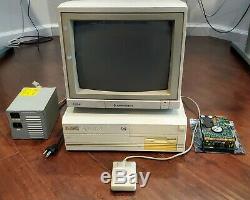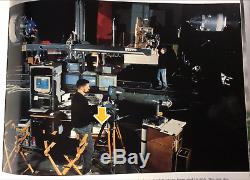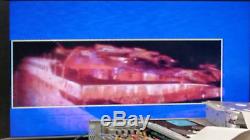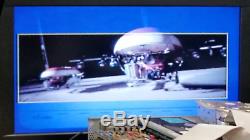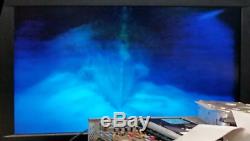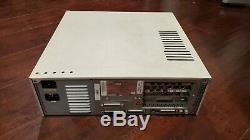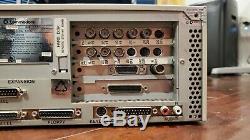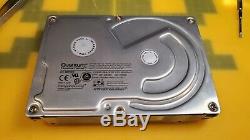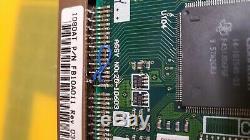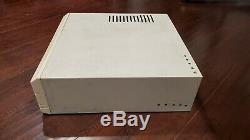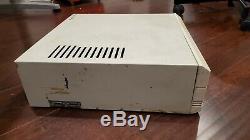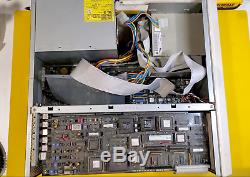 The Commodore Amiga used to make Titanic. It's hard to know how to put this find into words... This incredible once-in-a-lifetime discovery is the actual Commodore Amiga 4000/040 that was guaranteed as used (and photographed - see picture with yellow arrow pointing to it) on the sets of major motion pictures including. Titanic (James Cameron) - the #1 movie of all time until very recently.
Unbelievably extensive footage from "Titanic" was found still intact and 100% working (at the time of this listing) on one of the three hard disk drives. This felt somewhat like discovering The Titanic itself. It is believed the 3rd hard disk contains footage from "Apollo 13" starring Tom Hanks. This is more amazing because, as the story goes, most of the original footage from the making of Titanic was lost when the backup tapes were stored in a room right next to that building's UPS (power supply). The magnetic field wiped the tapes over many years.
This information comes directly from the machine's previous owner, an employee of Digital Domain, who worked on the movies using this very same machine. These hard disks in this listing may therefore contain the only footage left in existence from the making of one of the biggest motion pictures of our generation. To see the recovered Titanic footage, and the story of this machine's discovery, on set usage, and partial repair you may watch this video. This machine was used on set to. Record from the "video tap" for instant playback of test shots on set.
A number of these never-before-seen test shots are still on its 1.02GB hard disk. Interface with the "motion control" camera on set using Amiga ARexx scripts, so as to coordinate repeat camera movements for adding multiple layers of the same moving shot, such as people, then fog, then effects, etc. More info on this process is in the video linked above, but essentially the Amiga would tell the camera when to start moving, the camera would tell the Amiga when to record, then the Amiga would tell the camera when it was done and to continue moving/tracking for that shot.
This machine was integral to the making of Titanic, Apollo 13, etc. Using this machine, the Directors (James Cameron/Ron Howard) were able to immediately watch shots back, which otherwise would only be possible after waiting to develop the film reel from inside the camera. This technological leap was imperative on the set of these special effects laden movies.
Technically and legally this machine is listed in "AS IS" condition, because after 30 years, no warranties or guarantees whatsoever can be given about the working condition of the hard disks or other parts once it arrives with you. The exterior condition is as shown in the photos. This item has intentionally not been fully refurbished so as to not remove or destroy the "star dust" picked up on set from this workhorse of a machine. The hard disks & PAR film camera video capture card are currently 100% working & the incredible data found has been backed up intact.
You will receive a download link to copies of these backups. The state of this particular motherboard is that it currently will not power on.
The footage was played back by attaching the PAR card and hard disks to a different motherboard, and they worked great. The original 120V power supply blew. A replacement 240V power supply was installed as the only one that could be found.
Depending where you are in the world, you may need to use a step-up converter to power the 240V PSU with a 120V mains supply available cheaply on Amazon etc. This new power supply is currently fully working in the machine. A faulty pin was found on the Titanic hard disk which I repaired with a patch cable and it now works, but take extreme care if you have to remove the ribbon cable plug from the drive (or ideally simply leave it in place); as stated these are 30 years old and far from perfect.
Regardless, naturally it is an incredible piece of Hollywood memorabilia and the important parts (the hard drives) do work at the time of listing. After the above video was made, a 3rd hard disk was discovered, not connected to the machine. This hard disk is thought to possibly contain the footage from the set of Apollo 13.
The Titanic footage was recovered using a separate, working A4000 which is no longer on hand, therefore I have been unable to test this additional hard disk, which was discovered as a surprise to me. Please consider that hard disk's exploration mission a surprise for its new owner! I would love it if you documented the process, but this is your choice. This machine was acquired by me from the original owner who worked at film company Digital Domain; you can see their logo on the crane of the photo that shows this machine on the set of Apollo 13.
Commodore Amiga 4000/040 guaranteed and photographed on the set of Titanic and other movies. PAR capture card - working at time of listing.
PAR display card - working at time of listing. Ethernet card - working at time of listing. RapidFire SCSI controller card - working at time of listing. 3 RAM modules on motherboard - working at time of listing. 68040 processor on motherboard - working at time of listing. Original 120V power supply (not working). Newer 240V power supply (working, attached, requires a power step-up converter available on Amazon for low cost) - working at time of listing. Commodore 1084 monitor that came with the machine and was likely used on set also - working at time of listing. Commodore Amiga Mouse (keyboard not present although an A4000 will boot without it & mouse can be used to load programs/data without keyboard input). These vintage computing items are around 30 years old. These items are historical artifacts, and their value is considered to be in the fact that they still exist and have been found, even that the dust on or inside them contains the very DNA of major motion pictures. Thank you for your understanding. Thanks for stopping by and please do not hesitate to ask if you have any queries. Your friend in retro, Perifractic. The item "Commodore Amiga 4000 used to make Titanic inc. Amazing footage on harddisk AS IS" is in sale since Saturday, December 14, 2019. This item is in the category "Entertainment Memorabilia\Movie Memorabilia\Props\Originals". The seller is "retrorecipes" and is located in Walnut, California. This item can be shipped worldwide.
Modified Item: Yes
Country/Region of Manufacture: United States
Modification Description: PAR graphics cards Ethernet card RapidFire SCSI controller card Workbench hard disk PAR hard disk #1 PAR hard disk #2 (suspected)

---