Future-kill H. R. Giger Signed And Numbered Red Lithograph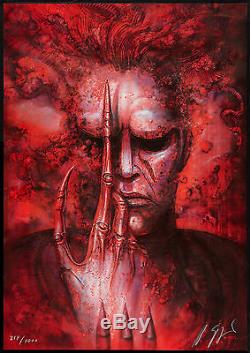 GIGER FEBRUARY 5, 1940 - MAY 12, 2014. "FUTURE-KILL" A RARE ORIGINAL H. GIGER SIGNED AND NUMBERED "RED" LITHOGRAPH OF THE "FUTURE-KILL" MOVIE POSTER. "FUTURE-KILL" IS A 1985 CULT CLASSIC LOW BUDGET COMEDY SCIENCE FICTION HORROR FILM ABOUT A GROUP OF FRAT BOYS HUNTED IN A FUTURISTIC CITY BY A GROUP OF MASCARA AND LIPSTICK WEARING MUTANT PUNKS.
THE POSTER TOUTED THE RETURN OF THE DIRECTOR AND CAST FROM THE CULT CAMP CLASSIC "TEXAS CHAINSAW MASSACRE". IT IS ANOTHER ONE OF THOSE INSTANCES WHERE THE POSTER IS FAR SUPERIOR THAN THE FILM. THIS IS ONE OF TWO PROMO LITHOGRAPHS DESIGNED, HAND SIGNED, AND NUMBERED BY THE BRILLIANT RENOWNED ARTIST AND SWISS REALIST H. THERE ARE SEVERAL STORIES AS TO HOW GIGER WAS PERSUADED TO DESIGN THE POSTER ART FOR THIS LOW-BUDGET FILM. ACTOR EDWIN NEAL (THE HITCHHIKER IN "THE TEXAS CHAINSAW MASSACRE", AND WHO ALSO STARS IN "FUTURE KILL") ONCE OWNED ONE OF THE LARGEST COLLECTIONS OF MOVIE POSTERS IN THE WORLD, DATING FROM THE EARLY 1900'S ON.
HE DID AND STILL TRAVELS ALL OVER THE WORLD MAKING GUEST APPEARANCES AT HORROR CONVENTIONS AND FILM FESTIVALS. NEAL ALWAYS CLAIMED HE WAS THE ONE RESPONSIBLE FOR GIGER'S INVOLVEMENT.
HOWEVER, IN GIGER'S BOOK "NECRONOMICON II" GIGER STATES IT WAS WITH "FUTURE KILL'S" DIRECTOR, RONALD W. MOORE, WITH WHOM HE DEALT. GIGER GOES ON TO SAY THAT HE FELT MANIPULATED BY MOORE, WHO TOLD HIM IN TEARS THAT THE FILM WOULD LOSE IT'S FINANCING WITHOUT THE GIGER POSTER.
WHATEVER THE CASE, THE ORIGINAL ART DID EVENTUALLY END UP IN EDWIN NEAL'S POSSESSION, ALONG WITH OTHER PRINTS AND PORTFOLIO'S BY GIGER, LENDING CREDENCE TO NEAL'S CLAIM OF INVOLVEMENT. GIGER RECEIVED AN ACADEMY AWARD IN 1980 FOR HIS BRILLIANT WORK ON "ALIEN" (INCLUDING THE CREATURE ITSELF, THE "SPACE JOCKEY", AND THE SPACESHIP "NOSTROMO"). ALL THE ALIEN MOVIES GAVE DESIGN CREDIT TO GIGER EXCEPT "ALIEN RESSURECTION" OF 20TH CENTURY FOX, GIGER WROTE, The designs and my credit have been stolen from me, since I alone have designed the Alien.
So why does Fox not give me the credit I rightfully earned? As for those responsible for this conspiracy: all I can wish them is an Alien breeding inside their chests, which might just remind them that the Alien father is HR Giger. " RIDLEY SCOTT'S BRILLIANT AND UNDERRATED "PROMETHEUS RESTORED THE DESIGN CREDITS TO GIGER. THIS IS THE "RED" LITHOGRAPH FOR "FUTURE KILL", HAND SIGNED BY H. GIGER AND NUMBERED 124/1000, WITH HIS STUNNING ARTWORK ON HEAVY STOCK PAPER.
IT MEASURES 26 X 37 AND HAS NEVER BEEN FOLDED. IT IS IN VERY FINE+ CONDITION. VERY RARE AND HIGHLY COLLECTIBLE! SADLY ON MAY 12,2014 THE BRILLIANTLY TALENTED SWISS SURREALIST H. I started collecting NEW and VINTAGE ORIGINAL MOVIE POSTERS especially GONE WITH THE WIND, STAR WARS. All SPIELBERG, DISNEY, ACADEMY AWARD WINNERS, BATMAN, LORD OF THE RINGS, HARRY POTTER, CLASSIC. Since I was a 27 year old in 1976 when I moved and lived in NYC. Needless to say, it is a diverse and eclectic collection of over 650 POSTERS. I also collected ANIMATION ART, specifically ORIGINAL DISNEY HAND PAINTED PRODUCTION BACKGROUND PAINTINGS that went under camera in the filming of Disney movies. All the photographs you see of my posters and art are ones that I have taken, not downloaded from other online sites. My prices will not go downjust the opposite.
The Movie Poster and Animation Art I offer will be interesting, diverse, original and in many cases a rare opportunity for any collector. Yes, some are Museum quality pieces, or obviously will be. And wait till you see what will be COMING SOON TO A THEATRE NEAR YOU!!! Too often in life we regret not doing things that we are able to do, for whatever reason, when we are presented with the opportunity to do so. I say Never live with regret.
To protect both parties I will insure all items for the full amount. We are aware that accidents can happen. Our items will be insured thru the US Postal Service. GIGER SIGNED AND NUMBERED RED LITHOGRAPH" is in sale since Thursday, December 6, 2012.
This item is in the category "Entertainment Memorabilia\Movie Memorabilia\Posters\Originals-United States\1980-89". The seller is "tmqposters" and is located in Saint Michaels, Maryland. This item can be shipped to United States.

---