Knives Out Detective Elliot Lakeith Stanfield Screen Used Badge Note Pad & Pen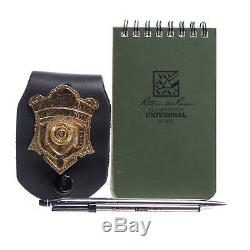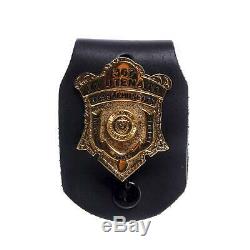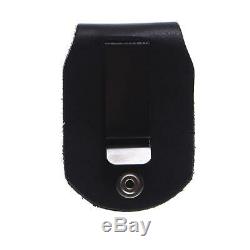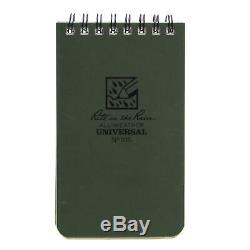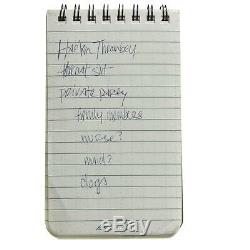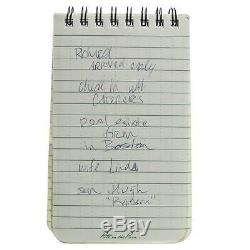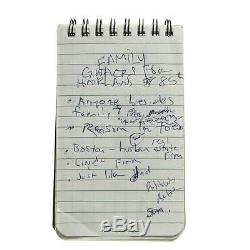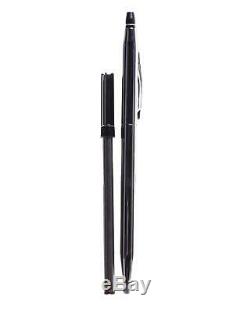 Knives Out Detective Elliot Lakeith Stanfield Screen Used Badge Note Pad & Pen. Detective Elliot's (Lakeith Stanfield) Screen Used Police Badge, Note Pad & Pen. Police Badge - This item is made of metal and leather, is black and gold in color, measures approximately 2.5 by 8 inches and is in good condition. Note Pad - This item is made of plastic, paper and metal, is green and black in color, measures approximately 3 by 5.5 inches and is in good condition. Pen - This item is made of metal and plastic, is silver in color, measures approximately 5.5 inches and is in good condition.
This item also includes a pen refill. This is 1 of 4 Received. Please note, all dimensions are in inches and all weights are in pounds.
Since 2002, VIP Fan Auctions has connected fans and studios through weekly prop and wardrobe auctions supporting the market's most recognizable television programs and movies. UNFORTUNATELY, THESE COSTS ARE NOT IN OUR CONTROL.
Thank you for your interest in the auctions operated by VIP Limited Partnership ("VIP", " "we, " or "us). These Terms and Conditions are a legally binding contract between you and VIP regarding your use of the Site and receipt of the Service.
Please read the following terms and conditions carefully. ELIGIBILITY: You must be at least 18 years of age to participate in a sale.
If you are using the Site on behalf of an entity, organization, or company, you represent and warrant that you are an authorized representative with the authority to bind that organization to these Terms and you agree to be bound by these Terms on behalf of that organization. You agree to accept responsibility for all activities that occur under your account.
You acknowledge that some Items offered for sale on the Site are inherently dangerous e. Weapons, sharp or broken objects, small Items that may be swallowed or ingested, or Items that may have latent defects, all of which may cause harm to a person or may be inoperable e. Cell phones may not work. You assume all risks of loss and/or injury, including, but not limited to, personal injury or property damage, arising from or related to any other use of any Item. You understand and agree that VIP shall have no liability for any such loss or injury and You expressly release VIP from any such loss or injury.
Pursuant to these Terms, all disputes between you and VIP will be resolved by binding arbitration. You agree to give up your right to go to court to assert or defend your rights under this contract, except for matters that may be taken to small claims court. Your rights will be determined by a neutral arbitrator and not a judge or jury, and your claims cannot be brought as a class action.
Please review Section 31 below, titled "Dispute Resolution and Arbitration" for the details regarding your agreement to arbitrate any disputes with VIP. If an Item contains multiple components, a separate Certificate of Authenticity is not provided for each component. In any dispute, VIP's records, whether audio, visual, or written, are conclusive. All sales are for cash in U. Due to the usually unique nature of VIP's Items, we do not offer an evaluation or cooling-off period.
Any amounts owed to VIP at that time shall bear interest at the rate of 5% per annum above the base lending rate of the Bank of America from time to time. The base lending rate shall be the average landing rate of the Bank of America for the six months preceding the date of default. If such interest rate exceeds the legal rate permitted by law, then the maximum legal rate permitted by law shall apply.
Time spent on collections by VIP's in-house legal staff shall be charged at an hourly rate comparable to that of outside attorneys. WARRANTIES: VIP guarantees the Authenticity of Attribution as stated in the Terms of Guarantee (set out below). To the fullest extent permitted by law, we are not responsible for errors and omissions in the online listings or any other supplemental material. VIP assumes no liability or responsibility for any errors or omissions in the content of its website.
This is VIP's Guarantee of Attribution. Any specific on-camera usage known to VIP will be noted within the description, but no warranties are given by VIP on that description. To the fullest extent permitted by law, it is exclusive and in lieu of any other remedy available as a matter of law, or in equity. By using one of these tools, you agree that we may transfer that information to the applicable third-party service. VIP does not control or endorse any such Linked Sites or the information, material, products or services contained on or accessible through them, and we are not responsible for any third party service's use of your exported information. OWNERSHIP; PROPRIETARY RIGHTS: The Site is owned and operated by VIP. You acknowledge and agree that the visual interfaces, graphics, designs, compilations, information, data, computer code (including source code or object code), products, software, services, and all other elements of the Site ("Materials") provided by VIP are protected by intellectual property and other laws. Except as expressly authorized by VIP, you may not make use of the Materials. VIP does not claim or own any copyrights or trademarks to any titles, logos or copyrights related to or arising from any theatrical or television production displayed via the Site (the "Images") and does not offer any grants or licenses to any re-use of those Images. The conditions for distribution, duplication, public performance or creation of derivative works from the item or the Images should be individually checked with the rightful property owners.
Please note that multiple costumes and props are produced for specific filming requirements. Vehicles may not be suitable for use on the road. SOME JURISDICTIONS DO NOT ALLOW THE EXCLUSION OR LIMITATION OF LIABILITY FOR CONSEQUENTIAL OR INCIDENTAL DAMAGES.
ACCORDINGLY, THE ABOVE LIMITATION MAY NOT APPLY TO YOU. THIS ALLOCATION IS AN ESSENTIAL ELEMENT OF THE BASIS OF THE BARGAIN BETWEEN THE PARTIES.
THE LIMITATIONS IN THIS SECTION 18 WILL APPLY EVEN IF ANY LIMITED REMEDY FAILS OF ITS ESSENTIAL PURPOSE. PROHIBITED CONDUCT: By using the Site you agree not to. Use the Site in connection with research, development, or offering any service that competes with the Site or Service.
Obtain, attempt to obtain, or redistribute any Materials (defined below) or information available through the Site through any means not intentionally made available by VIP, including by any form of automated access, scraping, or similar process, without VIP's express written permission. Violate, or encourage others to violate, any right of a third party, including by infringing or misappropriating any third party intellectual property right. Post, upload, or distribute any content that is unlawful, defamatory, libelous, inaccurate, or that a reasonable person could deem to be objectionable, profane, indecent, pornographic, harassing, threatening, embarrassing, hateful, or otherwise inappropriate.
Interfere with security-related features of the Site, including by: i. Disabling or circumventing features that prevent or limit use or copying of any content or reverse engineering or otherwise attempting to discover the source code of any portion of the Site except to the extent that the activity is expressly permitted by applicable law notwithstanding this limitation; ii. Interfere with the operation of the Site or any user's enjoyment of the Site, including by uploading or otherwise disseminating any virus, adware, spyware, worm, or other malicious code; making any unsolicited offer or advertisement to another user of the Site; attempting to collect personal information about another user or third party without consent; or interfering with, overburdening, or disrupting any network, equipment, or server connected to or used to provide the Site, or violating any regulation, policy, or procedure of any such network, equipment, or server; iii. Performing any fraudulent activity, including impersonating any person or entity, claiming a false affiliation, accessing any other Site account without permission, or falsifying your age or date of birth; iv.
Attempting to do any of the acts described in this Section 22 or assist or permit any person to engage in any of the acts described in this Section 22. You acknowledge and agree that upon such termination, VIP may immediately delete or deactivate your account and all related information in your account and/or bar any further access to the Site.
Further, you agree that VIP will not be liable to you or any third party for any termination of your access to the Site. We also reserve the right to modify or discontinue the Site at any time (including by limiting or discontinuing certain features of the Site), temporarily or permanently, without notice to you. GOVERNING LAW: These Terms are governed by the laws of the State of Illinois without regard to conflict of law principles. If a lawsuit or court proceeding is permitted under these Terms, you and VIP agree to submit to the personal and exclusive jurisdiction of the state courts and federal courts located within Chicago, Illinois for the purpose of litigating any dispute.
Notice by posting on or through the Site will be deemed given thirty days after it is initially posted. MODIFICATION OF TERMS: We reserve the right, at our discretion, to change these Terms on a going-forward basis at any time.
If VIP modifies these Terms, they will be published through the Site, with the effective date of the last revision indicated. Please check these Terms periodically for changes. If a change to these Terms materially modifies your rights or obligations, VIP will make reasonable efforts to notify you of the change. Immaterial modifications are effective upon publication. Material modifications are effective 30 days after they are made available through the Site, except that disputes arising under these Terms will be resolved in accordance with the version of these Terms that was in effect at the time the dispute arose.
Your continued use of the Site after revised Terms have become effective indicates that you have read, understood, and agreed to the current version of these Terms. PRIVACY POLICY: Please read the VIP Privacy Policy carefully for information relating to our collection, use, storage and disclosure of your personal information. The VIP Privacy Policy is incorporated by this reference into, and made a part of, these Terms. ADDITIONAL TERMS: Your use of the Site is subject to all additional terms, policies, rules, or guidelines applicable to the Site or certain features of the Site that we may post on or link to from the Site (the "Additional Terms"). All Additional Terms are incorporated by this reference into, and made a part of, these Terms. GENERAL: These Terms, together with the VIP Privacy Policy, are the entire and exclusive understanding and agreement between you and VIP regarding your use of the Site.
Except as expressly permitted above, these Terms may be amended only by a written agreement by the parties. You may not assign or transfer these Terms or your rights under these Terms without our prior written consent. We may assign these Terms to a successor to our business at any time without notice or consent. The failure to require performance of any provision will not affect our right to require performance at any other time after that, nor will a waiver by us of any breach or default of these Terms, or any provision of these Terms, be a waiver of any subsequent breach or default or a waiver of the provision itself. Use of section headers in these Terms is for convenience only and will not have any impact on the interpretation of any provision.
If any part of these Terms is held to be invalid or unenforceable, the unenforceable part will be given effect to the greatest extent possible, and the remaining parts will remain in full force and effect. Upon termination of these Terms, Sections 3, 4, 6, and 8 through 26, 29, 30, 31 and 32 will survive. If you are a California resident, you waive California Civil Code 1542, which says: A general release does not extend to claims which the creditor does not know or suspect to exist in his favor at the time of executing the release, which if known by him must have materially affected his settlement with the debtor. DISPUTE RESOLUTION AND ARBITRATION: a.
In the interest of resolving disputes between you and VIP in the most expedient and cost-effective manner, you and VIP agree that every dispute arising in connection with these Terms will be resolved by binding arbitration. Arbitration is less formal than a lawsuit in court.
Arbitration uses a neutral arbitrator instead of a judge or jury, may allow for more limited discovery than in court, and can be subject to very limited review by courts. Arbitrators can award the same damages and relief that a court can award. This agreement to arbitrate disputes includes all claims arising out of or relating to any aspect of these Terms, whether based in contract, tort, statute, fraud, misrepresentation, or any other legal theory, and regardless of whether a claim arises during or after the termination of these Terms. YOU UNDERSTAND AND AGREE THAT, BY ENTERING INTO THESE TERMS, YOU AND VIP ARE EACH WAIVING THE RIGHT TO A TRIAL BY JURY OR TO PARTICIPATE IN A CLASS ACTION.
Exceptions: Despite the provisions of Section 28, nothing in these Terms will be deemed to waive, preclude, or otherwise limit the right of either party to: (a) bring an individual action in small claims court; (b) pursue an enforcement action through the applicable federal, state, or local agency if that action is available; (c) seek injunctive relief in a court of law; or (d) to file suit in a court of law to address an intellectual property infringement claim. Arbitrator: Any arbitration between you and VIP will be governed by the Commercial Dispute Resolution Procedures and the Supplementary Procedures for Consumer Related Disputes (collectively, "AAA Rules") of the American Arbitration Association ("AAA"), as modified by these Terms, and will be administered by the AAA. Notice; Process: A party who intends to seek arbitration must first send a written notice of the dispute to the other party by certified U. VIP's address for Notice is: VIP, 424 Fort Hill Drive, Naperville, IL 60540. The Notice must: (a) describe the nature and basis of the claim or dispute; and (b) set forth the specific relief sought ("Demand").
The parties will make good faith efforts to resolve the claim directly, but if the parties do not reach an agreement to do so within 30 days after the Notice is received, you or VIP may commence an arbitration proceeding. During the arbitration, the amount of any settlement offer made by you or VIP must not be disclosed to the arbitrator until after the arbitrator makes a final decision and award, if any. In that case, you agree to reimburse VIP for all monies previously disbursed by it that are otherwise your obligation to pay under the AAA Rules. Regardless of the manner in which the arbitration is conducted, the arbitrator must issue a reasoned written decision sufficient to explain the essential findings and conclusions on which the decision and award, if any, are based. No Class Actions: YOU AND VIP AGREE THAT EACH MAY BRING CLAIMS AGAINST THE OTHER ONLY IN YOUR OR ITS INDIVIDUAL CAPACITY AND NOT AS A PLAINTIFF OR CLASS MEMBER IN ANY PURPORTED CLASS OR REPRESENTATIVE PROCEEDING.
Further, unless both you and VIP agree otherwise, the arbitrator may not consolidate more than one person's claims and may not otherwise preside over any form of a representative or class proceeding. Modifications: If VIP makes any future change to this arbitration provision (other than a change to VIP's address for Notice), you may reject the change by sending us written notice within 30 days of the change to VIP's address for Notice, in which case your account with VIP will be immediately terminated and this arbitration provision, as in effect immediately prior to the amendments you reject will survive. CONSENT TO ELECTRONIC COMMUNICATIONS: By using the Site, you consent to receiving certain electronic communications from us as further described in our Privacy Policy. Please read our Privacy Policy to learn more about our electronic communications practices. You agree that any notices, agreements, disclosures, or other communications that we send to you electronically will satisfy any legal communication requirements, including that those communications be in writing.
If you have an intellectual property rights-related complaint about material posted on the Site, you may contact our Designated Agent at the following address. Any notice alleging that materials hosted by or distributed through the Site infringe intellectual property rights must include the following information: i. A description of the material that you claim is infringing and where it is located on the Site; iv.
This Privacy Policy outlines the type of information that VIP Limited Partnership ("VIP" or "we") may collect from you through our websites (collectively, the "Website"), how such information will be used and when such information may be disclosed to third parties. Your use of the website constitutes your consent to our collection, use and disclosure of information about you as described in this Privacy Policy. What We Collect: When you use and access the Website, we may receive information regarding your use of the Website. Except as otherwise stated herein, we do not collect personal information, namely information that identifies you. For example, there is no registration to use the Website, and we do not know your name or contact information.
How We Collect Information: We may automatically collect and store information as you use the Website. When you subscribe to our newsletter or to receive updates, we collect the subscription information you provide on the Website. If you are using the Website outside of United States, please be aware that you are sending information to the United States where our servers are located. That information may then be transferred within the United States or back out of the United States to other countries outside of your country of residence, depending on the type of information and how it is stored by us. These countries may not necessarily have data protection laws as comprehensive or protective as those in your country of residence; however, our collection, storage and use of your information will at all times continue to be governed by this Privacy Policy.
Use of Information: Information may be used by us for administrative, analytical, research, optimization, security and other purposes. When you subscribe to our newsletter or updates, we use the information to transmit the newsletters and updates that you have subscribed to. Compliance with Data Protection Principles: We shall ensure that your information is: (a) Processed lawfully, fairly and in a transparent manner. (b) Collected only for specified, explicit and legitimate purposes. (c) Adequate, relevant and limited to what is necessary in relation to the purposes for which it is processed.
(d) Accurate and where necessary kept up to date. (e) Not kept in a form which permits identification of individuals for longer than is necessary for the purposes for which the information is processed. (f) Processed in a manner that ensures its security using appropriate technical and organizational measures to protect against unauthorized or unlawful processing and against accidental loss, destruction or damage. (g) Not transferred to another person or country without appropriate safeguards being in place. VIP uses commercially reasonable administrative, technical, personnel and physical measures to safeguard information in its possession against theft, loss and unauthorized use, disclosure or modification.
However, no method of transmission over the Internet or via mobile device, or method of electronic storage, is 100% secure. Therefore, while we strive to use commercially acceptable means to protect information about you, we cannot guarantee its absolute security. Your Rights: At any time, you may: (a) withdraw your consent to our processing your information; (b) request certain information about our processing activities; (c) request access to your information that we hold; (d) prevent our use of your information for direct marketing purposes; (e) ask us to erase your information if it is no longer necessary in relation to the purposes for which it was collected or processed or to rectify inaccurate information or to complete incomplete information; (f) restrict our processing in specific circumstances; (g) challenge processing which has been justified on the basis of our legitimate interests or in the public interest; (h) object to decisions based solely on automated processing of your information; (i) prevent processing that is likely to cause damage or distress to you or anyone else; (j) be notified of any act or omission that compromises the security, confidentiality, integrity or availability of your information which is likely to result in high risk to your rights and freedoms; (k) make a complaint to data protection authorities; or (l) in limited circumstances, receive or ask for your information to be transferred to a third party in a structured, commonly used and machine readable format. We do not sell or rent any information collected through the Website. Disclosure of Information: We may disclose information to third parties if you consent to us doing so, as well as in the following circumstances: (a) If another company acquires VIP, or all or substantially all of our assets, that company will possess the same information, and will assume the rights and obligations with respect to that information as described in this Privacy Policy.
(b) Information in anonymous form may be shared with third parties who assist us with operations such as application development, hosting, maintenance, administration, analytics, research, optimization, and advertising. (c) We may disclose any information if required to do so by law or in the good-faith belief that such action is necessary to comply with applicable laws, regulation or legal process. (d) We also reserve the right to disclose information that we believe, in good faith, is appropriate or necessary to (i) take precautions against liability, (ii) protect ourselves or others from fraudulent, abusive, or unlawful uses or activity, (iii) investigate and defend ourselves against any third-party claims or allegations, (iv) protect the security or integrity of the Website, or (v) protect our property or other legal rights, enforce our contracts, or protect the rights, property, or safety of others. Partnerships and External Sources: The Website may link to external sites beyond our control. The Privacy Policy covers only the way we treat information we collect in the Website.
By accessing any external sites, you agree to the privacy policies of those sites. The external sites may have different policies with respect to the collection, use and disclosure of Personal Information and information. We have no control over and are not responsible for the privacy practices of such third parties. Therefore, you are encouraged to review the privacy policies of all third-party websites.
Without limiting anything in the following section, we are not liable in any way for the actions, inactions or policies of any external services. S applicable privacy policy, rather than this Privacy Policy. Other Terms and Governing Law: Use of the Website may be subject to other terms, conditions and disclosures prescribed by us, device manufacturers, online service providers, or other intermediaries, including: (i) other terms and disclosures which are made available to you by us; and (ii) the terms, conditions, and disclosures made available to you by third parties in connection with the use of their devices and/or online services.
All such terms, conditions and disclosures are incorporated by reference into this Privacy Policy. VIP will retain your information for a period necessary to fulfill the purposes outlined in this Privacy Policy unless a longer retention period is allowed or required by applicable law. Remember that even after you cancel or unsubscribe, we may retain backup information for some time for fraud detection or to comply with applicable law or our internal security policies. It is not always possible to completely remove or delete all of your information due to technical constraints, financial or legal requirements. This Privacy Policy is governed by Illinois law.
Modification to Privacy Policy: We may revise this Privacy Policy from time to time. The most current version of the Privacy Policy will govern our collection, use, and disclosure of information about you and will be available online. By continuing to access or use the Website after those changes become effective, you acknowledge the revised Privacy Policy.
The item "Knives Out Detective Elliot Lakeith Stanfield Screen Used Badge Note Pad & Pen" is in sale since Tuesday, March 31, 2020. This item is in the category "Entertainment Memorabilia\Movie Memorabilia\Props\Originals".
The seller is "vipfanclubs" and is located in Naperville, Illinois. This item can be shipped to North, South, or Latin America, all countries in Europe, all countries in continental Asia, Australia.

---