MARILYN MONROE ORIG ONE-OF-A-KIND ARTIFACT 1953 APOLOGY TO TROOPS LETTER WithLOA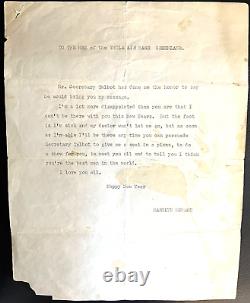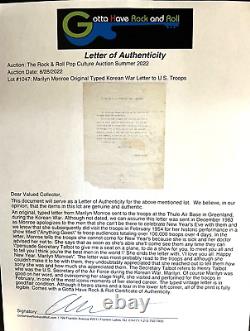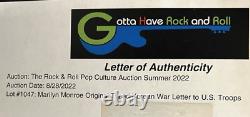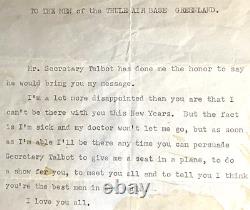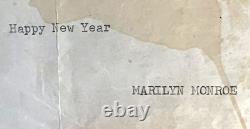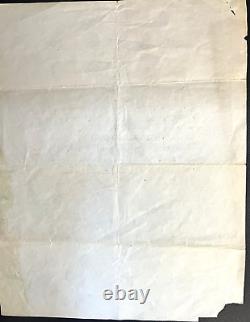 PRESENTED HERE IS THE EPITOME OF A TRULY ONE-OF-A-KIND CROSS COLLECTIBLE ARTIFACT!! LET'S BACKTRACK TO DECEMBER, 1953 IN THE TIME OF THE KOREAN WAR. LEGENDARY ENTERTAINMENT ICON MARILYN MONROE WAS SCHEDULED TO TRAVEL TO THULE AIR BASE IN GREENLAND TO ENTERTAIN OUR TROOPS FOR NEW YEAR'S EVE. WHILE NOT ENJOYING GOOD HEALTH, SHE HAD NO CHOICE BUT TO CANCEL/POSTPONE THE LONG JOURNEY ON THE ADVICE OF HER PHYSICIAN.
WHAT TO DO ABOUT IT? MARILYN'S RESPONSE WAS TO COMPOSE THIS HEARTFELT TYPED LETTER OF APOLOGY TO THE TROOPS!!!!
IN IT, SHE WROTE IN PART. I'M A LOT MORE DISAPPOINTED THAN YOU ARE THAT I CAN'T BE THERE WITH YOU THIS NEW YEARS.
SHE THEN HAD IT DELIVERED TO U. SECRETARY OF THE AIR FORCE HENRY TALBOT.. WHOSE TASK IT WAS TO READ IT TO THE CRESTFALLEN TROOPS.
MARILYN EVENTUALLY MADE GOOD ON THE LETTER'S PROMISE BY ARRIVING IN GREENLAND TO ENTERTAIN OVER 100,000 TROOPS OVER A 4 DAY PERIOD IN FEBRUARY OF 1954; IN ONE OF THE MOST ICONIC MOMENTS IN HER STORIED CAREER!! OVERALL CONDITION OF THIS HISTORIC 70 YEAR OLD PAPER EPHEMERA RATES GOOD-FAIR!! EVERY WORD OF THE LETTER IS ENTIRELY LEGIBLE..
WITH EVERY BIT OF ORIGINAL MAILING FOLDS, STAINING & PAPER LOSS ONLY ADDING FURTHER TO ITS SINGULARLY UNIQUE APPEAL & MYSTIQUE!!!! MEASURES LETTER STANDARD 8.5" X 10".
ALONG WITH OUR 48 YEARS IN THE BUSINESS. ALL OF OUR LISTINGS COME WITH OUR PERSONAL LIFETIME GUARANTEE. PLEASE ENJOY VIEWING OUR COMPLETE STORE GALLERY & FEEL FREE TO MAKE OFFERS! THANK YOU FOR SHOPPING WITH US!

---