ORIGINAL Supacraft Bud Spencer Resin Figur Statue 1/6 Westernstil 1970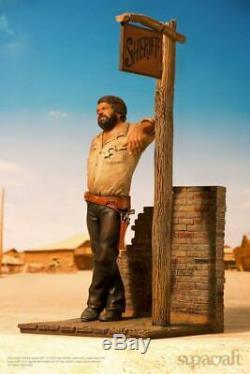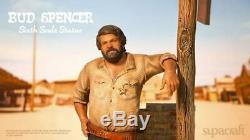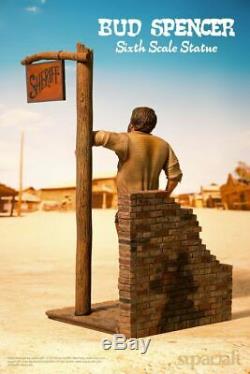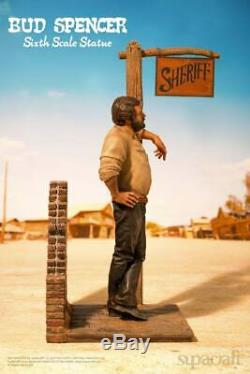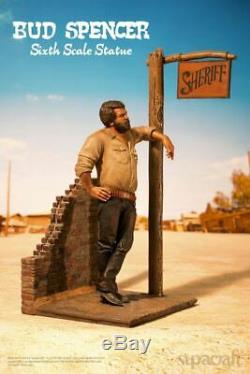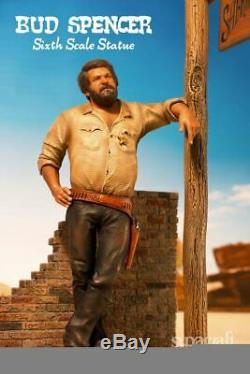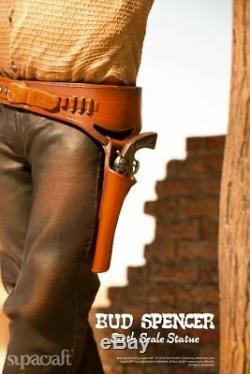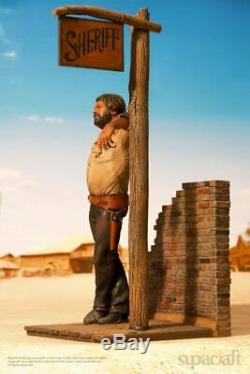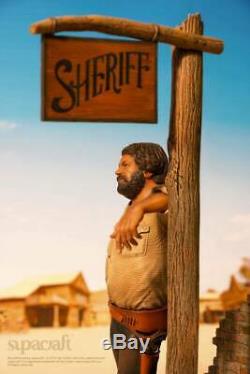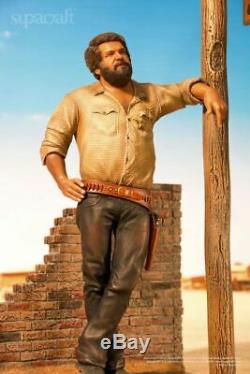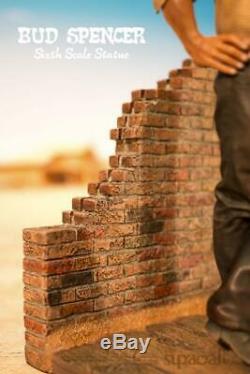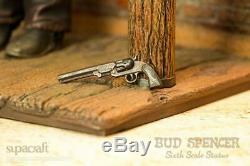 Bud Spencer Statue 1/6 1970 44 cm. Olympischer Schwimmer, Komponist, Pilot, Erfinder und Euro-Kultkino-Ikone.
Während dies einige (und noch nicht einmal alle) Schritte im aufregenden Leben und Schaffen des großartigen Bud Spencer sind, betrachten ihn viele von uns einfach als Held unserer Kindheit! Kaum ein anderer Schauspieler hat eine eingeschworenere Fangemeinde als die italienische Leinwand-Legende. Fans und Sammler warten bereits seit vielen Jahren verzweifelt auf High-End-Collectibles von Bud Spencer und das Warten hat nun endlich ein Ende! Voller Stolz präsentiert supacraft® die weltweit erste, offiziell lizenzierte Resin-Statue von Bud Spencer im Maßstab 1:6! Sie zeigt ihn in seine frühen Schauspiel-Tagen, in denen er in zahlreichen Italowestern mitwirkte, die so viel Spaß ins Genre brachten. Die Statue ist Buds Erscheinung aus dieser Zeit nachempfunden und strotzt vor Details.
Sie ist Bud Spencer wie aus dem Gesicht geschnitten und auch seine Statur, die lässigen Pose und Gesichtsausdruck sowie die Kleidung, die er trägt - alle sehen aus, als wäre er direkt von der Leinwand in die Vitrine gehüpft. Viele kleinen Details, wie z.
Das staubige Aussehen der Kleidung, der Schweißfleck auf seinem Rücken, der Schmutz unter seinen Fingernägeln, sein Patronengürtel, der Sheriffstern, seine Sporen und sogar die Stelle, an der sein Hemd nicht sauber in der Hose steckt, erfreuen jedes Sammlerherz! Die herausnehmbare Pistole sitzt perfekt im Holster. Die wunderschön gearbeitete Diorama-Base rundet das perfekte Bild ab. Wir bei supacraft® hatten die Ehre und das Privileg, gemeinsam mit Bud Spencer dieses Meisterwerk möglich zu machen. Der Maestro höchstpersönlich hat den finalen Prototypen Anfang 2016 freigegeben, bevor er später im gleichen Jahr traurigerweise von uns ging. Wir werden ihn als die liebenswürdige, bescheidene und herausragende Person in Erinnerung behalten, die er war und freuen uns über die Möglichkeit, sein Vermächtnis mit diesem wundervollen Kunstwerk zu ehren. Die Statue ist auf 1,500 Stück limitiert und wird mit Echtheits-Zertifikat und einer Echtheits-Medaille, die in einer Schatulle mit Velour-Innenseite untergebracht ist, geliefert. Features: - Resin-Statue im Maßstab 1:6 - Diorama-Base im Westernstil - Limitiert Auflage von 1,500 Stück - Echtheitszertifikat und Echtheits-Medaille - Vollfarbige Karton-Verpackung mit Schaumstoffeinlage Produkt-Daten: Höhe: 44 cm (Höhe der Figur ohne Base: 32 cm) Tiefe: 20 cm Breite: 22 cm Gewicht: 3965 g. Olympic swimmer, composer, pilot, inventor and European cult cinema icon. While these are some (and not even all) steps in the incredible life and works of the great Bud Spencer, many of us simply see him as our childhood hero! Very few actors have a more dedicated cult following than the Italian screen legend. Fans and collectors are desperately waiting for many years now for some high-end Bud Spencer collectibles and the wait is finally over!
Supacraft® proudly presents the world's first officially licensed Bud Spencer 1/6 scale resin statue. It shows him in his early days of acting in several Spaghetti Western movies which brought so much fun to this genre. The statue is true to Bud's appearance in those days and bursting with details.
The head sculpt features an incredible likeness of Bud Spencer and also his build, the relaxed pose and facial expression and the clothes he wears - all look like they were cut right out of the silver screen. Many small details, like the dusty look of his clothes, the sweat stain on his back, the dirt under his fingernails, his belt , the sheriff's star, his spurs and even the spot where his shirt is untucked, bring joy to any collector's heart.
The removable gun fits perfectly inside the holster. The beautifully crafted diorama base gives everything the perfect final touch.
We at supacraft® had the honour and privilege to work with Mr. Spencer directly to make this masterpiece happen! The Maestro himself approved the final prototype of this collectible in early 2016, before he sadly passed away later that year. We will always remember him as the kind, humble, larger than life person he was and we are happy to be able to honour his legacy with such a wonderful piece of art.
The statue is limited to 1.500 pieces and will include a certificate of authenticity and a medal of authenticity, which is housed in a case with velour interior. Features: - 1/6-scale resin statue - Western-style diorama base - Limited edition of 1.500 pieces - Certificate and medal of authenticity - Full-color cardboard packaging with foam interior Product specifications: Height: 44 cm (height of figure without base: 32 cm) Length: 20 cm Width: 22 cm Weight: 3965 g. The item "ORIGINAL Supacraft Bud Spencer Resin Figur Statue 1/6 Westernstil 1970" is in sale since Thursday, April 4, 2019. This item is in the category "Filme & DVDs\Film-Fanartikel\Aufsteller & Figuren".
The seller is "jahntos" and is located in Gerolstein. This item can be shipped worldwide.

---