Original WOODSTOCK poster (1969) purple bird on guitar + Nixon orig on backside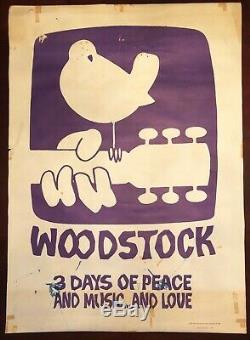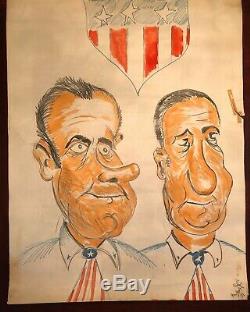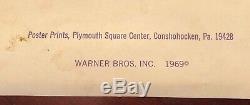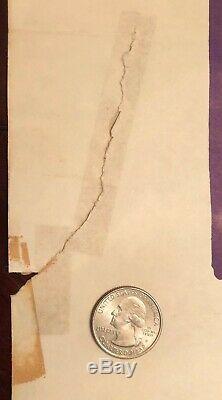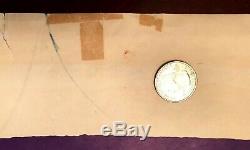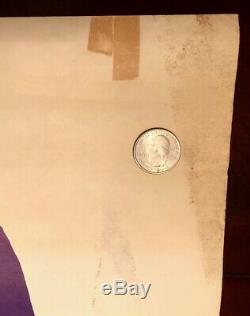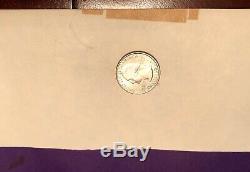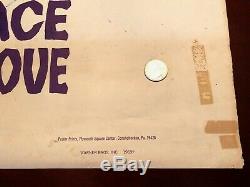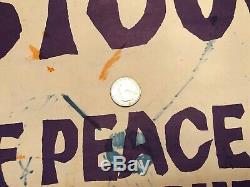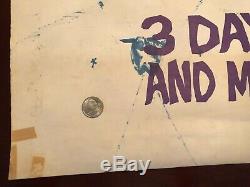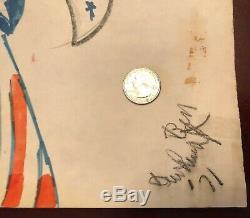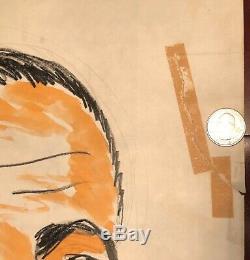 Original WOODSTOCK poster (1969) purple bird on guitar + Richard Nixon & Agnew original drawing by Ben Dewhurst/Deuheart? If you know please let me know on the backside! This one sheet poster may be one of the last pieces of memorabilia from the original release of this historic film. It would look great framed on display in your home theater!
PLEASE BE PATIENT WHILE ALL PICTURES LOAD After checking out this item please look at my other unique silent motion picture memorabilia and Hollywood film collectibles! This poster is vintage, original and not a copy or reproduction. Rare Vintage 1969 Original " Woodstock " Arnold Skolnick Silkscreen Print Iconic Large Concert Movie Poster.
This vintage, 1969 1 sheet poster: Dimensions 30W × 41.5H. Condition Vintage / Antique / Used, Original, Unrestored with several imperfections. This 50 year old poster has an original drawing on the backside and some of that ink/magic marker has bleed through to the front. There is a tear on the left edge 4 long, and at the top edge 1 long. There are tape stains, dirt marks, etc.
It is aged with a yellowed or sepia or brownish tomn. All of my items are unconditionally guaranteed.
This is Larry41, wishing you great movie memories and good luck. Skolnick (February 25, 1937, Brooklyn, New York) is an American graphic artist and book publisher.
He also created the original 1969 Woodstock poster. He currently resides in Easthampton, MA. Arnold Skolnick's 1969 Woodstock poster showed a white dove perched on the neck of an acoustic guitar. Woodstock Ventures asked Skolnick to design a music and art fair poster.
Skolnick's son Peter remembers watching his father cut the words and bird from paper. He also remembers his father trying different layouts. Skolnick was hired on a Thursday and delivered the poster the following Monday around 11am.
While Skolnick has won many awards and many of his design solutions have become famous, perhaps his 1969 and his 40th anniversary Woodstock posters are his most famous. This iconic musical documentary covers the three-day 1969 music festival on the property of Max Yasger's farm that symbolized the late 1960s in terms of musical, social and political ideology of the era.
American audiences are introduced to Ten Years After, featuring guitar great Alvin Lee. Jimi Hendix, The Who and Joe Cocker give riveting performances. As naked flower children romp, the New York freeway is closed because of traffic congestion. Music lovers leave their cars and travel on foot only survive torrential downpours of rain, food shortages and non-stop music. Jefferson Airplane gives the wake up call with their song Volunteers Of America.
Crosby, Stills and Nash deliver a memorable performance. John Sebastian gives an impromptu set with a borrowed guitar from Tim Hardin. Santana, Sly and The Family Stone, Sha-Na-Na, Arlo Guthrie, Richie Havens and Joan Baez also appear. The Grateful Dead, Credence Clearwater Revival and Janis Joplin performed but were not shown in the film.
The Dead's Jerry Garcia recalled that it was the worst live show the band ever did, ironic for a band known for their spirited live performances. Woodstock set the standard for all rockumentaries to come. Sensing that the 1969 Woodstock concert would be something more than a mere "happening", director Michael Wadleigh brought along a battalion of cinematographers and assistants. As a result, what could have been an aloof, detached record of the landmark concert is as "up close and personal" as it was possible to get without actually being there. Utilizing widescreen, splitscreen, and stereo-sound technology to the utmost, Wadleigh puts us right in the middle of the 400,000 screaming, mud-caked spectators, then zooms in to loving closeups of the stars.
The talent lineup includes Canned Heat, Richie Havens, Country Joe and the Fish, The Who, Jimi Hendrix, Santana, David Crosby and Stephen Stills, Jefferson Airplane, Joe Cocker, Arlo Guthrie, John Sebastian, Sly and the Family Stone, Ten Years After and Sha Na Na. The original 184 minute running time was expanded to 224 minutes for the 1994 video version, featuring previously excised footage of Janis Joplin. One of the best shots in Woodstock has no music at all: the final image, as a group of dour policemen survey the garbage and debris left behind by the Woodstock nation. The item "Original WOODSTOCK poster (1969) purple bird on guitar + Nixon orig on backside" is in sale since Sunday, August 18, 2019.
This item is in the category "Entertainment Memorabilia\Movie Memorabilia\Posters\Originals-United States\1960-69". The seller is "larry41" and is located in Culpeper, Virginia. This item can be shipped worldwide.

---