Rare DEATH STAR Screen-Used Prop STAR WARS IV, COA London Props, DVD, Lit CASE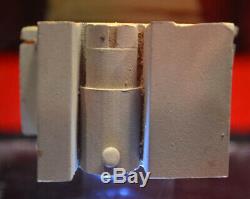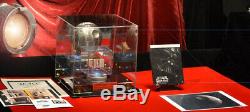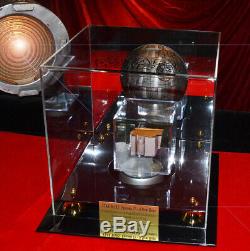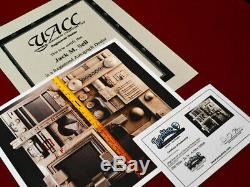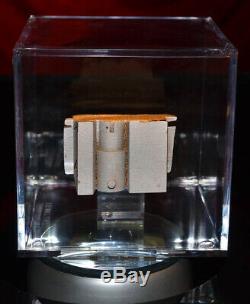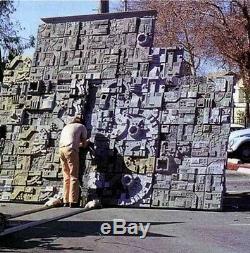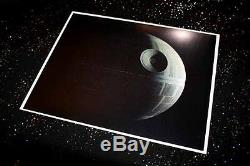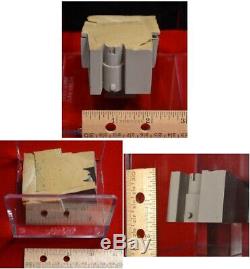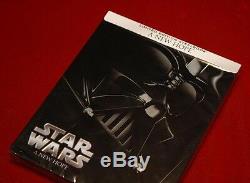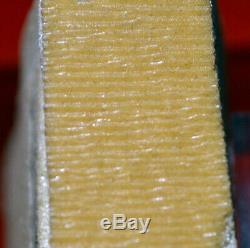 Check out our NEW Star Wars PROPS & COSTUMES from "The Rise of Skywalker" filmed at Pinewood Studios - a real "One of a Kind" Opportunity! We also just learned from the new trailer, "STAR WARS: The Rise of Skywalker" the DEATH STAR will appear in the new film!
Disney has revealed that the Death Star wreckage now resides on an ocean moon named Kef Bir. One of the RAREST Screen-Used PROPS in all the STAR WARS Films! Beautiful LARGE Production-Used Prop Piece from "The DEATH STAR" in "STAR WARS IV: A NEW HOPE".
IF YOU EVER THOUGHT OF OWNING SUCH A RARE PIECE OF "STAR WARS" MEMORABILIA, NOW IS THE TIME!!! These are almost gone and very hard to find in the marketplace! THIS IS ONE OF OUR NICEST & DETAILED PROP PIECES!! "STAR WARS IV: A NEW HOPE" - A Great Classic Motion Picture... A Great Gift or Investment!
This STAR WARS IV collection includes. A Prop piece of the actual DEATH STAR from the first GEORGE LUCAS film, "STAR WARS IV: A New Hope" & a copy of the original Certificate of Authenticity from The PROP STORE of LONDON signed & guaranteed genuine by DGA Director Jack M. A DRAMATIC Movie DISPLAY that includes a CASE, Lighted STAND with Engraved display PLAQUE. A color photograph of the DEATH STAR from the movie & 3D model of DEATH STAR inside the CASE + Star Wars LOGO. A new factory sealed special BLU RAY DVD "STAR WARS IV" steelbook version. I've been a D. Director of film & television for over 30 years & I've certainly loved these movies as much as any fan! As a TV & Movie DIRECTOR and a lifetime member of the Director's Guild of America, D. Sell is offering some rare PROPS, AUTOGRAPHS & COSTUMES, ART & COLLECTIBLES from his personal collection from some great television & motion pictures, including "STAR WARS, " "RESIDENT EVIL, " APOLLO 13, " "STAR TREK, " "AMERICAN PIE, " "DIRTY DANCING, " "E.
", "AEON FLUX, " "WARM BODIES, " "CASINO ROYALE, " "bruno, " "GONE WITH THE WIND, " "CHRONICLES OF RIDDICK, " "HANNIBAL, " "BATMAN, " "WIZARD OF OZ, " "HOOK, " "IT'S A WONDERFUL LIFE, " "SUPERMAN, " "GHOST, " "RESIDENT EVIL, " "NATIONAL TREASURE, " "SKYFALL, " "HUNT FOR RED OCTOBER, " "SPIDER-MAN" & "PIRATES of the CARIBBEAN + dozens of other Films & Television shows, many destined to become Classics that will live on for millions of viewers for years to come. There might be some very small charred & chipped parts on some of the "Death Star" artifact... This very RARE PROP Large Piece of the "DEATH STAR" Filming Model Section Cut Piece that was used on-screen in the first famous STAR WARS motion picture... After filming the stop motion scenes like this, some of these sections were also sent over to LARRY CUBA in the computer graphics department who created the digital imagery as well!
STAR WARS IV: A New Hope. This is an actual RARE genuine Prop piece of the Death Star model used on the production of the 1977 sci-fi classic, Star Wars: A New Hope. This is one of the Screen-Used Original pieces created by ILM model makers used in creating the large filming miniature of the Death Star surface.
This particular prop piece can be seen on the original Death Star in Star Wars: A New Hope. Many interlocking abstract pieces were made...
The back of these pieces were formed using biscuit foam construction.. And painted and detailed to the high ILM standard. This piece originally comes from the collection of visual effects guru Richard Edlund.
This genuine prop was acquired directly from the Lucasfilm model makers by The Prop Store of London, one of the most highly respected props houses in the world. A Very RARE "STAR WARS" Display & Collection.. The Prop is part of the "DEATH STAR, " with GREAT DETAIL! THIS IS ONE OF OUR MOST DETAILED PIECES!
One of the most FAMOUS Props in Motion Picture history! And you can own a piece of film history, keep it as an investment and enjoy it for many years to come! On top of the CASE is the STAR WARS logo in black.. Inside the larger Display Case, a DEATH STAR model is nicely mounted on the back inside the exhibit..
The lighted display stand can be powered with battery or AC 110 Volt power cord. Of course, you can see the pyrotechnics & chips where rebel space ships crashed into some parts of the surface where it's worn...
At the bottom of the CASE is this engraved brass plaque that reads. This Large production-used prop DEATH STAR artifact measures approximately 2 1/4" Wide x 1 1/2" High x 3 1/2 Deep...
This is the actual prop piece you will receive.. Here's the bottom of the artifact.. This Prop piece was obtained by The PROP STORE of LONDON, world renowned Movie Prop Dealers and includes a copy of the ORIGINAL Certificate of Authenticity signed & certified by D. Sell that is further guaranteed genuine by UACC Registered Dealer #228. The fantastic genuine PROP "Death Star" Screen-Used Prop came directly from the set at Lucasfilm Studios and includes this copy of the Certificate of Authenticity that guarantees this Production-Used Prop original and genuine by The Prop Store of London.. SELL personally made the cutting from the larger piece you see in the photo above... You will receive his signature & seal under the piece that was carefully cut for this "One Of A Kind" DISPLAY. The Prop Store of London have one of the best sites in the world for both Star Wars & James Bond props!!!
You also get this Special Edition Brand New Factory Sealed STEELBOOK BLU RAY DVD "STAR WARS IV: A NEW HOPE". "STAR WARS IV: A NEW HOPE". Widescreen, NTSC, Region One, Blu Ray & DVD.
Also included is an 9 x 7 color photograph of the DEATH STAR as seen in the "Star Wars" motion picture! A great STAR WARS Collection.. The original Prop "STAR WARS" PROP Death Star, Plexiglass Display Case & DVD have been stored in an acid free case in a smoke free, pet free environment since being acquired. Check out our other auctions for more TV & Movie Collections that include Wardrobes, Props, Art, Collectibles, Antiques & Autographs. Sell is a Registered Dealer with the U.
We are proud that some of our memorabilia on display in the SMITHSONIAN, Washington, D. Jakeverett_0: (Death Star) Amazing Product & Display! Jdes7667: Just got my model. Btbandabbermake3s: Fantastic items, 30 Star Movie Maker! Heimdell51: Great guy; very prompt & efficient service & exc.
Packaging; got a free bonus too! Toothfella: Thanks for the super helmet Jack! Hope to do business again. Jimsoden: Great packing, good emails, very generous with his time and effort, class act!!! Circus10: Fabulous costume, vintage RBBB.
Belfast: Wonderful Ebayer & with genuine COA's too! JACK, GOT YOUR PACKAGE TODAY!
I WAS VERY IMPRESSED AT THE WAY YOU PUT ALL THE PROPS TOGETHER. I PUT YOU IN ONE OF MY FAVORITES! AND, THANKS TO THE OTHER 10,000 GREAT EBAYERS WE'VE HAD THE HONOR OF WORKING WITH FOR OVER 15 YEARS... WE LOOK FORWARD TO MEETING MANY MORE GREAT EBAYERS IN THE FUTURE FROM ALL OVER THE WORLD!
RARE "Star Wars" Movie PROP Collection that includes an Original Production-Used PROP piece of the miniature DEATH STAR built and used in George Lucas first Star Wars film "STAR WARS: A NEW HOPE, "& direct from the Set at Lucasfilms Studios near London &, a color photo of the Death Star from the film, a signed copy of the Original COA from The PROP STORE OF LONDON, photo of the cutting made & signed by DGA Film Director Jack M. Sell, a large plexiglass DISPLAY CASE with a Death star model, Star Wars LOGO and description PLAQUE, lighted display stand, an original sealed Blu Ray "STAR WARS: A NEW HOPE" Steelbook Set (NTSC, Region One). Of course, you get a copy of the Original CERTIFICATE OF AUTHENTICITY (COA) that guarantees this screen-used prop genuine by The PROP STORE of LONDON & you get a Photo that is signed & sealed by DGA film Director Jack M. Sell, who did the cutting for this large piece of Death Star.. This professionally made plexiglass Display CASE makes for a very dramatic display, all ready to display in your Home, Museum, Office or Media Room...
A GREAT piece of STAR WARS MOTION PICTURE history.. A real "One of a Kind" Find & Conversation Pieces! Movie & Television Props can make for a good investment as well!
Check out our other auctions for more great Movie & Television PROPS, AUTOGRAPHS & COSTUMES! Imagine giving this ULTIMATE great STAR WARS movie collection to the Star Wars Fan in your family or just keeping it for yourself for what could be a good investment!
A GREAT MOTION PICTURE COLLECTION from the great classic film, STAR WARS IV: A New Hope. VERY RARE & VALUABLE ONE OF A KIND PROP!! It's very hard to find the real Props from this great movie... This would look great displayed in your Home, Museum, Media Room or Office for years to come!
The item "Rare DEATH STAR Screen-Used Prop STAR WARS IV, COA London Props, DVD, Lit CASE" is in sale since Tuesday, July 16, 2019. This item is in the category "Entertainment Memorabilia\Movie Memorabilia\Props\Originals". The seller is "jackmsell" and is located in New Port Richey, Florida. This item can be shipped worldwide.
Country/Region of Manufacture: United States

---