Signed ROBIN WILLIAMS Hook Autograph, PROP CROC, DVD, COA, UACC RD#228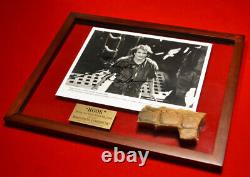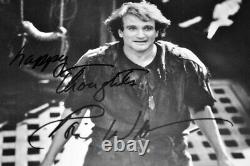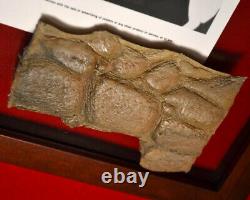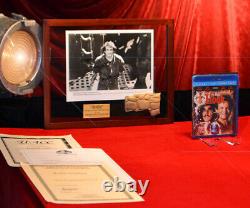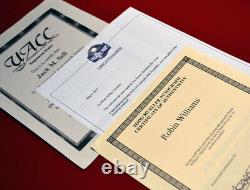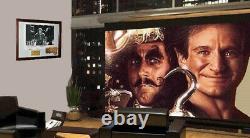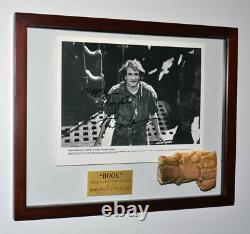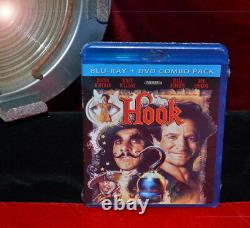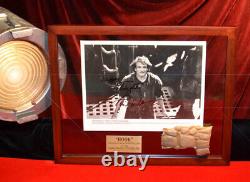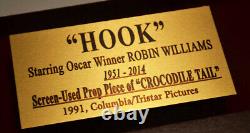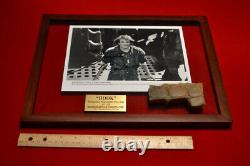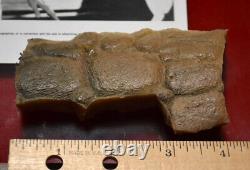 A Great Collection that includes a great genuine piece of the screen-used PROP "Crocodile" tail, used on the sound stage at Sony Pictures Studios. A GREAT GIFT for the Robin Williams Fan or a Great Investment Piece! This particular Framed "HOOK" Collection includes. ORIGINAL ROBIN WILLIAMS Signed Autograph Photo with COA in new FRAME with COA from TODD MUELLER AUTOGRAPHS, guaranteed for life by UACC #228. Original screen-used PROP "CROCODILE" Tail piece & a copy of the Letter Of Provenance (COA) from Premiere Props. A factory sealed Blu Ray DVD of this classic movie! As a TV & Movie DIRECTOR and a lifetime member of the Director's Guild of America, D.
Sell is offering some rare props & collectibles from his personal collection from some great television & motion pictures, including this great Robin Williams film, directed by Steven Spielberg as well as "STAR WARS, " "RESIDENT EVIL, " "INDIANA JONES, " "STAR TREK, " "AMERICAN PIE, " "WIZARD OF OZ, " E. ", "WARM BODIES, " "CASINO ROYALE, " "NIGHTMARE BEFORE CHRISTMAS, " "GONE WITH THE WIND, " "CHRONICLES OF RIDDICK, " "HANNIBAL, " "BATMAN, " "IT'S A WONDERFUL LIFE, " "SUPERMAN, " "GRINCH, " "SOPRANOS, " "SOPRANOS, " "NATIONAL TREASURE, " "SKYFALL, " "SPIDER-MAN" & "PIRATES of the CARIBBEAN + dozens of other Films & Television shows, many destined to become Classics that will live on for millions of viewers for years to come. These fantastic genuine PROP & AUTOGRAPH include a copy of the Original Certificate of Authenticity from PREMIERE PROPS, an Original COA from TODD MUELLER AUTOGRAPHS, both guaranteed by UACC RD#228. This wonderful & Rare ORIGINAL SIGNED Autographed Photo of Oscar Winning actor ROBIN WILLIAMS as "PETER PAN" is signed by Robin in black marker and is displayed under this double glass in a new FRAME with engraved Description Plaque & Prop "CROC" Tail!
This Custom Framed FRAMED EXHIBIT measures approximately 15" X 12".. We acquired this entire tail piece years ago from Premiere Props and we carefully cut it down into smaller sections.. This RARE piece mounted to the glass frame was removed from this larger section of croc that we owned...
This nice piece is a softer molded rubber on the outside skin and painted carefully to look like a real croc! This PROP is mounted to the glass and has this brass description PLAQUE mounted on the glass..
The ROBIN WILLIAMS "HOOK" Autograph & Prop "CROC" DISPLAY are mounted on a gold frame with engraved Description Plaque... And is just ready to hang on the wall of your Home, Office, Media Room or Museum! Original screen-used PROP "CROCODILE" Tail is a real "One Of A Kind" piece &. You get a copy of the original Letter of Authenticity from Premiere Props signed by D. Film & TV Director Jack M.
Sell, who did the cuttings. You also get an original COA from world renowned TODD MUELLER Autographs for the ROBIN WILLIAMS Signed Picture. This full size rare & unusual prop "CROC" was made and assembled in 1991 by Mark R. Wade & his fellow prop makers at Amblin Entertainment and used in the soundstages at Sony Pictures Studios..
Of course, you get 2 CERTIFICATES OF AUTHENTICITY for the Robin Williams Autograph & the Movie PROP Croc Tail piece... All guaranteed genuine for life by UACC Registered Dealer #228. Finally, you also get an original factory sealed Blu Ray & DVD Combo Pack (NTSC region One) DVD of this classic film so you can enjoy watching this classic film and seeing your PROP on the screen!
Peter Pan (Williams) has grown up to be a cut-throat merger and acquisitions lawyer, and is married to Wendy's granddaughter. With the help of her and the Lost Boys, he must remember how to be Peter Pan again in order to save his children by battling with Captain Hook once again. This one-of-a-kind framed ROBIN WILLIAMS AUTOGRAPH & "HOOK" Screen Used "CROC" TAIL is just ready to hang on your wall of you Media Room, Office, Home or Museum.
If this autograph is declared not to be authentic, we may ask the purchaser to supply the full written opinion of one competent authority acceptable to us. Robin Williams, born in Chicago on July 21, 1951, studied theater at Juilliard School before taking his stand up act to nightclubs. He was cast as Mork, an alien visitor to Earth, for a 1974 episode of television's Happy Days. " "Happy Days" star Henry Winkler said it was "unimaginable that this is the reality today, that this incredible human being, incredible, delicate, funny, dramatic human being is gone. " Winkler said he "realized I was in the presence of greatness at Williams' first rehearsal as Mork.
"I just realized my only job is to keep a straight face, " said Winkler, who played The Fonz. Because no matter what you said to him, no matter what line you gave to him, he took it in, processed it, and then it flew out of his mouth, never the same way twice. And it was incredibly funny every time.
" The role led to the spin-off show "Mork & Mindy, which showcased Williams' usual comic improvisation talents. He proved his dramatic acting skills in "Good Will Hunting, " a 1997 film that earned him a best supporting actor Oscar. His memorable movies over the past three decades includes "Good Morning, Vietnam, " "Dead Poets Society, " Mrs. The list is much longer. Williams credited the influence of Jonathan Winters' comic irreverence and quirky characters as a great influence on his comedy. The connection between the two was completed when Winters was cast as Williams' son on Mork & Mindy. " When Winters died in 2012, Williams said, he was "my idol, then he was my mentor and amazing friend. " He tweeted that Winters was his "Comedy Buddha. What more can be said? WIlliams and Dawber reunited on TV earlier this year on an episode of the CBS comedy The Crazy Ones.
" Williams' fans can look forward to four more movie appearances coming to theaters, including another installment in the "Night at the Museum franchise. The film, set for a December release, has Williams reprising the Teddy Roosevelt role he delivered in the first two comedies. The original Prop & Autograph have been stored in an acid free case in a smoke free, pet free environment until removed to put in the exhibit. Check out our other auctions for more TV & Movie Collections that include wardrobes, props & autographs. Sell is a Registered Dealer with the U.
We are proud that some of our memorabilia is on display in the SMITHSONIAN, Washington, D. Heimdell51 Praise: Great guy; very prompt & efficient service & exc. Packaging; got a free bonus too! Austinpowheinybeer Praise: GREAT GREAT GREAT!!
Toothfella Thanks for the super helmet Jack! Hope to do business again. Jimsoden Praise: Great packing, good emails, very generous with his time and effort, class act!!! Circus10 Praise: Fabulous costume, vintage RBBB. Belfast Praise: Wonderful Ebayer & with genuine COA's too!
THANKS TO THE OTHER 10,000 GREAT EBAYERS WE'VE HAD THE HONOR OF WORKING WITH FOR OVER 20 YEARS.... AND, WE LOOK FORWARD TO MEETING MANY MORE GREAT EBAYERS IN THE FUTURE FROM ALL OVER THE WORLD!
This is a great Framed "HOOK" Collection that includes an Original ROBIN WILLIAMS Signed Autograph Photo with COA from world renowned TODD MUELLER AUTOGRAPHS, Original screen-used PROP "CROCODILE" Tail piece & a copy of the original LOA (Letter of Authenticity) from PREMIERE PROPS, Double glass FRAME with Engraved Description Plaques, a factory sealed Blu Ray DVD of this classic movie.. Of course, the entire collection is guaranteed genuine for life by UACC Registered Dealer #228 & D. A GREAT piece of MOTION PICTURE history.... A real "One of a Kind" Find & Conversation Pieces.... Movie & Television Props & Autographs could make for a good investment as well!
Check out our other auctions for more great finds that include Props, Costumes & Autographs for your favorite movies... Imagine giving this great Autographed "HOOK" movie collection to the ROBIN WILLIAMS Fan in your family or just keeping it for yourself to display! A GREAT MOTION PICTURE COLLECTION from a classic film, HOOK. VERY RARE & VALUABLE ONE OF A KIND PROP & AUTOGRAPH COLLECTION!!
You may be gone, but you will never be forgotten. The item "Signed ROBIN WILLIAMS Hook Autograph, PROP CROC, DVD, COA, UACC RD#228" is in sale since Sunday, February 7, 2021.
This item is in the category "Entertainment Memorabilia\Movie Memorabilia\Props\Originals". The seller is "jackmsell" and is located in New Port Richey, Florida.
This item can be shipped worldwide.
Country of Manufacture: United States
Genre: Movie Memorabilia
Product Type: PROPS
Modified Item: Yes
Country/Region of Manufacture: United States
Original/Reproduction: FILM USED
Object Type: Prop
Industry: Movies

---