Signed SEAN CONNERY Autograph, CAFE MARTINIQUE Menu & Plate 007 THUNDERBALL COA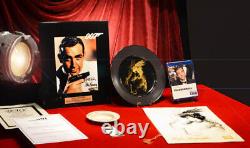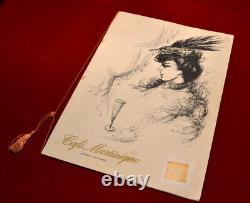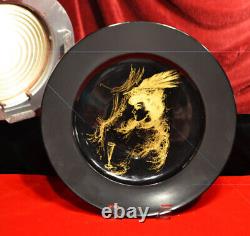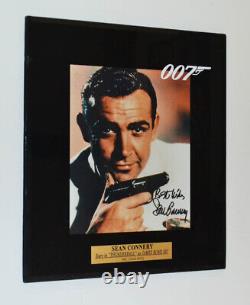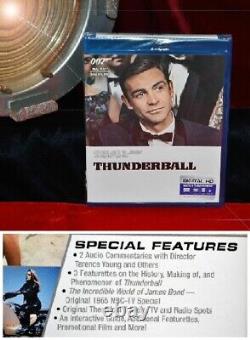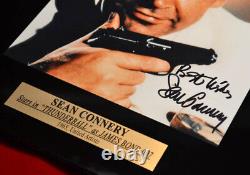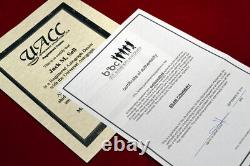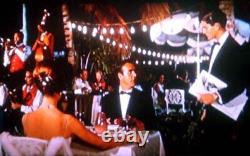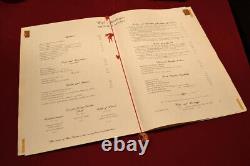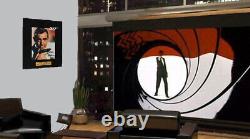 Signed SEAN CONNERY Autograph Framed Photo, JAMES BOND with CAFE MARTINIQUE Menu & Plate, Ashtray & Matches! "THUNDERBALL" Signed SEAN CONNERY Autograph. CAFE MARTINIQUE Dinner PLATE & MENU, ASHTRAY & MATCHES, UACC Registered Dealer #228, COA, DVD. Hand-Signed Original Autograph of the Legendary 007 James Bond STAR. Sir Sean Connery, with COA & guaranteed genuine by UACC RD#228 & b'bc..
This RARE James Bond 007 "THUNDERBALL" Collection includes. SEAN CONNERY Autograph 8x10 Color Photo with COA. CAFE MARTINIQUE original Dinner PLATE. CAFE MARTINIQUE Full original Dinner MENU. CAFE MARTINIQUE original MATCH BOOK COVER.
CAFE MARTINIQUE ASHTRAY & MATCH Cover. The Certificate of Authenticity from b'bc that accompanies this GREAT Original AUTOGRAPH and is Guaranteed genuine for life by UACC Registered Dealer #228... This AUTOGRAPHED 8x10 Color Photo was signed by Sir SEAN CONNERY (RIP) as "JAMES BOND 007" in black ink & is mounted inside a large Black Glass FRAME with engraved plaque.. This new black glass FRAME measures an overall 14" x 12"..
And 007 Logo, just ready to hang on the wall of your Home, Office, Museum or Media Room! This RARE COLLECTION features "CAFE MARTINIQUE, " artifacts found in Nassau, Bahamas 40 years ago... The restaurant was torn down many years ago to build ATLANTIS Resort on Paradise Island. Sean Connery and Claudine Auger dining at CAFE MARTINIQUE in the 1963 JAMES BOND motion picture, "THUNDERBALL"... The WAITER hands JAMES BOND a similar MENU!
This highly RARE 007 Display includes an actual real plate from the famous CAFE MARTINIQUE.. The "Cafe Martinique" 12 DINNER PLATE is in very good condition (no chips or scrapes) and bears this ROSENTHAL mark underneath the plate.
This RARE COLLECTION also includes this ORIGINAL MENU with the price page still inside with ribboned tassel.. And you can see the original old prices for this delicious food! How about a Lobster dinner for 7 bucks!!!
Here's James Bond (Sean Connery) having dinner at CAFE MARTINIQUE with Domino (Claudine Auger)... The waiter hands 007 the MENU in that great 007 movie "THUNDERBALL"..
This collection also includes this original "Cafe Martinique"ASHTRAY & MATCH Cover... You also receive this special edition factory sealed BLU RAY DVD of "THUNDERBALL" (NTSC, Region One). For a JAMES BOND FAN, this is the ultimate "THUNDERBALL" Collection you have spent years looking for!! The Rare SEAN CONNERY Original Autograph Display features the most famous actor to ever play British secret agent JAMES BOND 007! You get an original CERTIFICATE of AUTHENTICITY for the AUTOGRAPH issued by world famous Autograph Dealer, b'bc... And UACC Registered Dealer #228 also guarantees this Signature absolutely genuine for life. The scenes at Cafe Martinique were filmed in 1965 over several long nights of shooting... Important people & dignitaries who lived in Nassau were invited and were used as "extras" (background people at other tables) in the scenes where Bond and Domino are having dinner under the watchful eye of Largo. The filming went on all night until sunrise... The extras came wearing their own gowns and tuxedos. They were seated around the outside area at the back of the restaurant where the boats pull in to dock...
There used to be no bridge between Paradise Island and Nassau, so you could only eat at Cafe Martinique if you came by boat! Of course, the extras were also using the Menus and black Plates with the famous gold logo on them.. My wife and I had the pleasure of dining here in 1979 when it was associated with Hotel Brittania, that was torn down and is now where Atlantis Hotel is located. Of course, I loved Cafe Martinique and, as a film director, I took in every angle of the patio area as we ate a delicious meal, even getting a table in what I hope was a similar location where Bond and Domino ate! What can I say, I'm such a Bond fan!
Of course, I snagged a handful of CM matches on the way out! And yes, we have eaten at the newly rebuilt Cafe Martinique on Paradise Island - and it's a beautiful restaurant with wonderful food, but it's not in the same location as the original and, of course, "James Bond" never ate here! Although our waiter told us that Sean Connery and his wife have dined at the new restaurant, since they had a house on Paradise Island! This dynamic Framed "THUNDERBALL" Sean Connery Framed AUTOGRAPH is just ready to hang or display on the Wall of your Office, Museum or Media Room!
James Bond 007 continues on his fourth mission, with his aim to recover two stolen warheads. They have been taken by the evil SPECTRE organization. The world is held hostage and Bond heads to Nassau. Here, he meets the beautiful Domino and is forced into a thrilling confrontation with SPECTRE agent Emilio Largo, on board his boat, the Disco Volante. Will 007 prevent the killing of millions of innocent victims in Miami? This autograph & collection has been stored in an acid free sleeve/box in a dark, 72 degree, smoke free, pet free environment.. The MENU is used and has some spots on it, but is in overall fair condition with original red tassels. The PLATE & ASHTRAY are both in good condition. CHECK OUT OUR OTHER AUCTIONS FOR MORE GREAT ITEMS INCLUDING AUTOGRAPHS of famous People, Movie & Television Prop & Costume Collections, rare Toys, POSTERS and more "ONE OF A KIND" finds! They cannot be duplicated or reproduced or posted anywhere without the express written permission of Sell Communications... The photos are included with this ad as part of our ad description. Sell is a Registered Dealer with the U. We are also honored to have some of our memorabilia on display in the SMITHSONIAN, Washington, D. Btbandabbermake3s PRAISE: Fantastic items, 30 Star Movie Maker! Heimdell51 "PRAISE: "Great guy; very prompt & efficient service & exc. Packaging; got a free bonus too! Austinpowheinybeer PRAISE: GREAT GREAT GREAT!! Toothfella PRAISE: Thanks for the super helmet Jack! Hope to do business again. Jimsoden PRAISE:Great packing, good emails, very generous with his time and effort, class act!!!
Circus10 PRAISE: Fabulous costume, vintage RBBB. Belfast PRAISE: Wonderful Ebayer & with genuine COA's too!
AND, THANKS TO THE OTHER 10,000 GREAT EBAYERS WE'VE HAD THE HONOR OF WORKING WITH OVER 20 YEARS.... WE LOOK FORWARD TO MEETING MANY MORE GREAT EBAYERS IN THE FUTURE FROM ALL OVER THE WORLD! If this autograph is declared not to be authentic, we may ask the purchaser to supply the full written opinion of one competent authority acceptable to us.
A GREAT piece of Motion Picture History..... A real "One of a Kind" Find & Investment Piece.... Movie & Historical Autographs, Artifacts, Posters, Props & Art could make for a good investment as well! The Ultimate James Bond 007 "THUNDERBALL" Collection featuring CAFE MARTINIQUE!
Sir SEAN CONNERY, a great actor... May he Rest In Peace.
He may be gone, but he will never be forgotten.

---