THE EMPIRE STRIKES BACK Original Australian One Sheet 1980 Star Wars Poster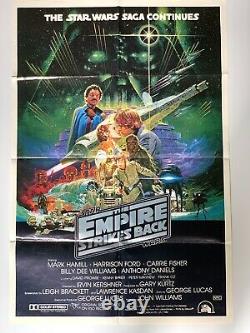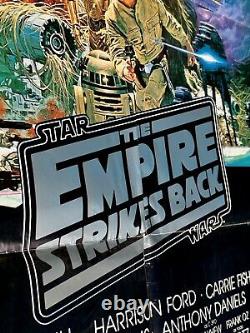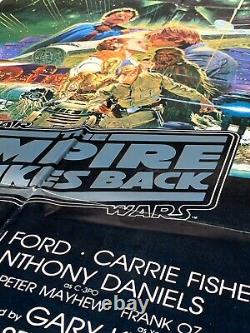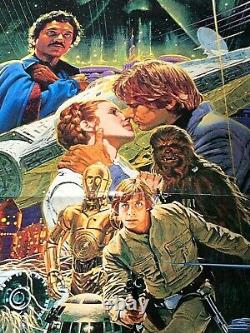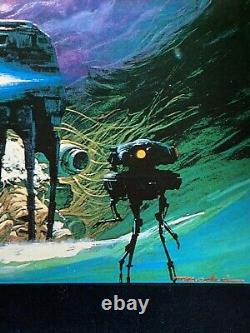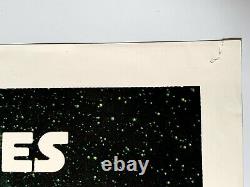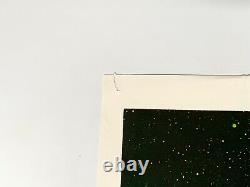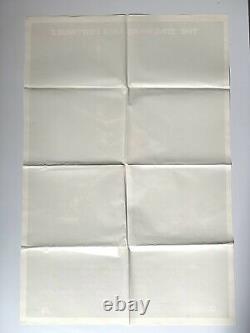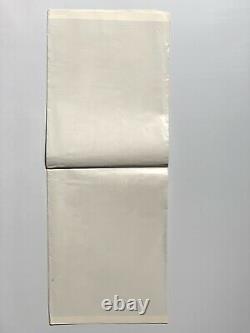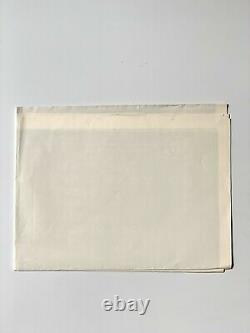 This is an Genuine Original Australian 1980 The Empire Strikes Back One Sheet Cinema Poster. Very rare and in very good condition for its age. The colours are bright and vivid and the Japanese OHRAI artwork looks superb.
The poster came from a now closed country cinema in Victoria via a deceased estate. There are 2 pin holes and what looks like 2 small pin tears at the very top left and right of the poster.
Please view photos 6 & 7. Please zoom up on the poster to view the poster in detail. It was Tri-folded as issued by the studio.
This is a genuine 26 1/2" x 39 3/4" (69 cm × 104 cm) AUSTRALIAN ONE SHEET ORIGINAL FILM POSTER issued by the studio when the film was released and meant for theatrical display. This is the best looking poster for this film, and is extremely rare and very hard to find! It will look awesome framed.
This original one sheet will be safely and securely packaged in a protective slip firmly placed flat between 2 solid pieces of cardboard enclosed in a padded envelope and sent via courier or express post. Star Wars: The Empire Strikes Back (Episode V) Movie Synopsis: Three years after the destruction of the Death Star, the Rebel Alliance, led by Princess Leia, has set up a new base on the ice planet Hoth. The Imperial fleet, led by a merciless Darth Vader, hunts for the new Rebel base by dispatching probe droids across the galaxy. Luke Skywalker is captured by a wampa while investigating one such probe and dragged into the creature's cave, but manages to escape after using the Force to retrieve his lightsaber. Before Luke succumbs to hypothermia, the Force spirit of his deceased mentor, Obi-Wan Kenobi, instructs him to go to the swamp planet Dagobah to train under Jedi Master Yoda.
Han Solo discovers Luke and manages to keep him alive by placing him inside the body of his dead Tauntaun mount, until the two are rescued by a search party the following morning. The probe alerts the Imperial fleet to the Rebels' location. The Empire launches a large-scale attack using AT-AT walkers, forcing the Rebels to evacuate their base. While they hide in an asteroid field, where Han and Leia become romantic amidst the tensions, Vader hires several bounty hunters to find the Falcon.
Meanwhile, Luke travels with R2-D2 in his X-wing fighter to Dagobah, where he crash-lands. He meets a diminutive creature who later reveals himself to be Yoda; the Jedi master reluctantly accepts Luke as his apprentice after conferring with Obi-Wan's spirit. Luke learns more about the Force from Yoda, who lifts his X-wing out of the swamp using the Force.
After evading the Imperial fleet, Han's group travels to the floating Cloud City on the planet Bespin, which is governed by Han's old friend Lando Calrissian. Bounty hunter Boba Fett tracks the Falcon and, with Vader, forces Lando to hand the group over to the Empire. Vader plans to use the group as bait to lure Luke, intending to capture and deliver him to the Emperor so that he could be turned to dark side of the Force. Luke experiences a premonition of Han and Leia in pain and, against the wishes of Yoda and Obi-Wan, abandons his training to rescue them. Vader intends to hold Luke in suspended animation by imprisoning him in carbonite, selecting Han to be frozen as an experiment. Han survives the process and is given to Fett, who plans to collect a bounty on him from Jabba the Hutt. Lando, still loyal to Han, frees Leia and Chewbacca, but they are too late to stop Fett from departing with Han.
Under attack from stormtroopers, they fight their way back to the Falcon and flee the city. Meanwhile, Luke arrives and engages Vader in a lightsaber duel that leads them over Cloud City's central air shaft. Vader severs Luke's right hand, disarming him, and tempts him to embrace his anger and join the dark side.
Luke refuses and accuses Vader of killing his father, only for Vader to reveal that he is Luke's father. Disbelieving the truth, Luke drops into the air shaft and is ejected beneath the floating city, where he grabs hold of an antenna. He reaches out telepathically to Leia, who senses him and persuades Lando and Chewbacca to turn back. After Luke is brought aboard, they are chased by TIE fighters towards Vader on his Star Destroyer, and discover that the Falcon's hyperdrive has been sabotaged, but R2-D2 reactivates it, allowing them to escape. The group rejoins the Rebel fleet, where Luke's severed hand is replaced with a robotic prosthesis. Lando and Chewbacca begin their quest to save Han, as the other rebels watch the Falcon depart. The item "THE EMPIRE STRIKES BACK Original Australian One Sheet 1980 Star Wars Poster" is in sale since Wednesday, February 3, 2021. This item is in the category "Movies\Movie Memorabilia\Posters". The seller is "cassa28" and is located in Brighton, VIC.
This item can be shipped worldwide.
Authenticity: Original
Movie Title: The Empire Strikes Back
Product Type: Posters
Era: 1980s
Original/Reproduction: Original
Featured Refinements: One Sheet
MPN: Does not apply
Modified Item: No

---